Being successful after my comeback has proven my critics and doubters wrong – MzVee
After MzVee parted ways with her former record label, Lynx Entertainment, many people including blogger, George Britton said her comeback was weak but she vehemently disagreed.

The Daavi hitmaker, recently revealed in an exclusive interview with Amansan Krakye that her success after exiting Lynx Entertainment has proven her critics and doubters wrong.

"Oh I have definitely proven my critics wrong, I mean people have to learn to be patient," she remarked.

MzVee added, "I left Lynx and in one year you expect me to do what, so everything is a gradual process and I'm a very patient person."

"So I knew that this day will come and people will see that it was a lot of work I was putting into my craft so I wasn't worried at all at first," she disclosed on Kastle FM.

Media personality and artiste manager, George Britton opined last year that MzVee's comeback into the music scene was weak and that's why Ghanaians weren't getting more of her.

She replied, "When I heard those negative comments I wasn't worried because there were a lot of good comments so for me I focused on that and I kept doing what I had to do."Comments:
I'm happy Shatta Wale is in custody; God has punished him – Blakk Rasta
Over the past few days, Dancehall artiste Shatta Wale has been in the news.
Following his fake gun attack, the popular Dancehall artiste, born Charles Nii Armah Mensah Jnr, has been talked about all over the country.
Protesting the menace of fake prophecies, Charles Nii Armah Mensah Jnr faked an attack on him on Monday, October 18 but later turned himself in to the police on Tuesday after they declared him wanted.
He has since been remanded in police custody by an Accra Circuit Court.
While most people have called for his release, a lot of people have said that the laws of the land should deal with him and his punishment should serve as a deterrent to other artistes.
One person who seems happy with Shatta Wale's ordeal is fellow artiste and radio presenter Blakk Rasta.
The Reggae artiste has not seen eye to eye with the Dancehall artiste since 2016.
On Entertainment 360 with Tony Best on Saturday, October 23, Blakk Rasta said he was really happy Shatta Wale is in police custody.
He told the host the law should deal with Shatta Wale and he should be shown no mercy.
"I am really happy he is in police custody, no one is above the law. It's his punishment, God has punished Shatta Wale," he said.
Blakk Rasta revealed on the show that Shatta Wale once asked him to go on his knees and beg him before he will agree on a collaboration with him.
Netflix staff join protests outside its headquarters over controversial stand-up show by Dave Chappelle
Chappelle has been accused of making anti-transgender comments in a special show which is on Netflix.
Staff at Netflix's headquarters in Hollywood have staged a walkout in protest at the release of a controversial special by the stand-up comedian Dave Chappelle.
Chappelle, one of the biggest names in American comedy, has been accused of making anti-transgender comments in the hour-long special The Closer.
But Netflix has refused to remove the special from its streaming service despite a backlash from the transgender community, both within the company and outside.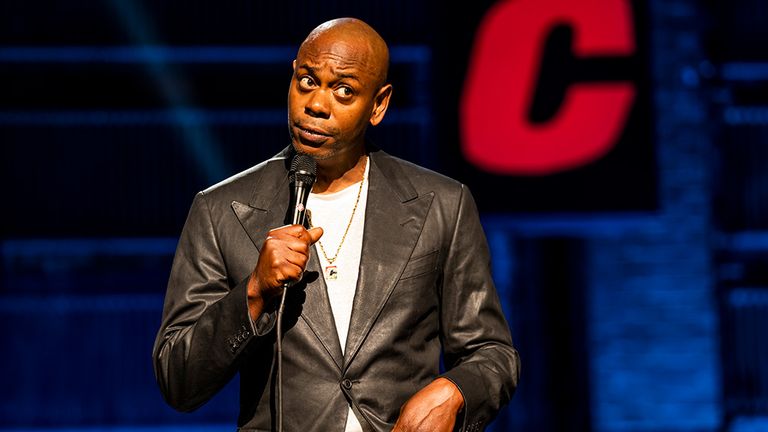 Employees joined the planned walkout to take part in a rally outside one of the company main campuses in Hollywood.
There were also scuffles as counter-protesters – carrying signs reading "We like Dave" and "Jokes are funny" – tried to disrupt the rally.Advertisement
To background chants of "Trans Lives Matter", campaigners pushed for Netflix to respond to a list of "asks" including the hiring of more trans executives and greater spending on trans and non-binary content.
Protest organiser Ashlee Marie Preston told the rally: "We're here to speak directly to Netflix. We tried to speak to Dave Chappelle but he was not having the conversation so we're communicating directly with the people who sign the cheques. We're not going away."
As well as criticism for streaming the special, Netflix has also come under fire for its handling of the backlash.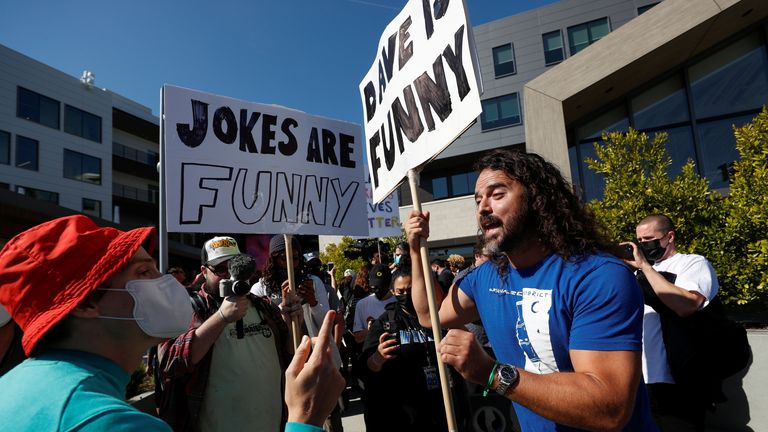 Chief executive Ted Sarandos has walked back his claim that content didn't "directly translate to real-world harm".
He told Deadline: "I should have made sure to recognise that a group of employees was hurting very badly from the decision made. I respect them deeply and I love the contribution they have at Netflix."
But he continues to stand by the decision to stream the special, telling the Hollywood Reporter: "We tell our employees that some of the content on Netflix you're not going to like.
"This kind of commitment to artistic expression and free artistic expression is sometimes in conflict with people feeling protected and safe. I do think that's something we struggle with all the time."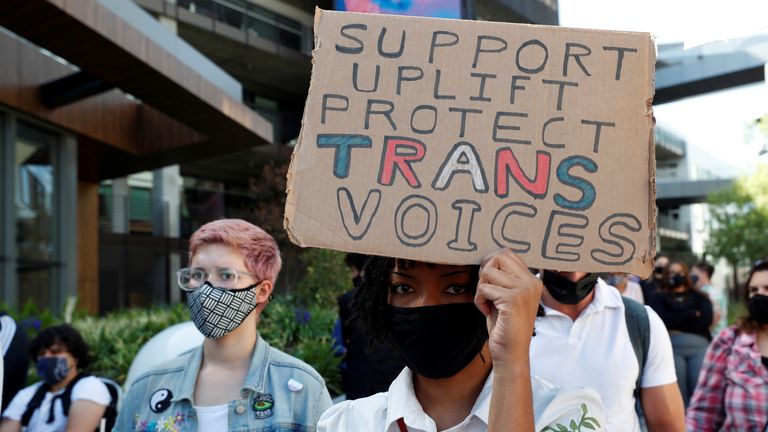 A number of Netflix stars have expressed their support for the walkout.
Elliot Page, who starred in The Umbrella Academy and is transgender, tweeted: "I stand with trans, nonbinary, and BIPOC (Black, Indigenous and People of Colour) employees at Netflix fighting for more and better trans stories and a more inclusive workplace."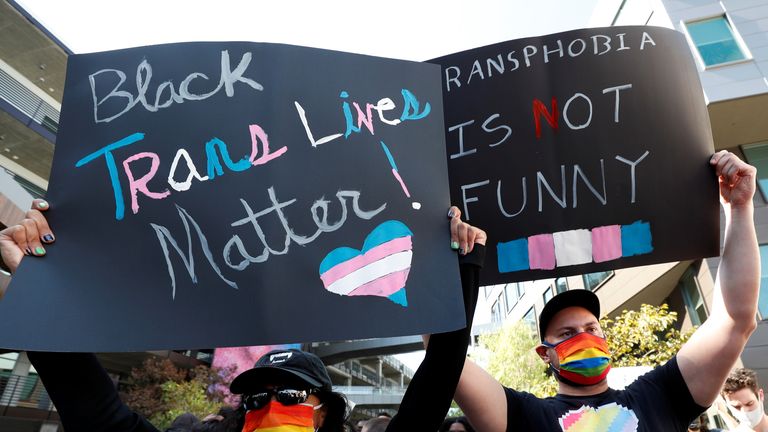 As the walkout was taking place, Chappelle himself was on stage in London.
Fans at the venue told Sky News that they believed entertainers needed to be conscious of how their words affected people.
"We as a society shouldn't be marginalising or prejudicing any community," said one.
But another added: "A joke's a joke. It's not meaning anything to hurt someone's feelings."
Women, ego and friends are the cause of music group failures – Yaw Grey of Mobile Boys
Yaw Grey, formerly of Mobile Boys, has attributed the failure of most music groups in Ghana to the women, ego, friends and lack of maturity. He believes that these factors caused groups like Mobile boys, 4×4, Praye and others to break up prematurely.
Discussing the causes of Music Group splits in the industry on SimplyShowbiz, Yaw Grey referenced his former group as a case study. He explained that Reggie Rockstone was the one who brought them together and called them Mobile Boys (Kochoko, Nkonya and himself). But when Reggie travelled, Kochoko left without giving the others any notice. And since they hadn't signed any contract, the seams of the group began to fall apart.
"Certain things will make a group fallout. I will say four factors, and that is ego, maturity, women and friends. These things mess us up and for me, what messed up our group was ego and money. And maturity was not there for us to know and understand what we had at that particular time. We were just rappers enjoying our rap talent. We get calls for shows and the rest, so the business part wasn't really considered like it is today in the music industry."
Yaw Grey also explained how his decision to bring back his former group members together backfired because of pride. He further declared his stance of remaining solo rather than going back to being in a group.
"I will not go back or form any group again. I can stay relevant depending on my hard work and if I'm consistent. If people are not following what you're doing, then it means you're doing nothing. The reason why it will be difficult for me to go back to the group is the question of if my partners are also ready. If they are ready to walk along. I started with a group, and I've learnt my lessons. I tried bringing back the group two years ago, and it failed because of ego."
Yaw Grey urged everyone to support and stream his newest feature with Dancehall artiste Samini titled 'No No', available on all music platforms.