Belarus migrants: Two groups cross border into Poland as forces accused of firing shots into the air
It comes as German Chancellor Merkel asks Russian President Vladimir Putin to exert influence on Belarus over the Polish border migrant crisis.
Two groups of migrants have reportedly managed to cross the border from Belarus into Poland, amid accusations that Belarusian forces have fired shots into the air near a makeshift camp.
Poland's Defense Ministry posted a video on Twitter with noises of what sounded like shots in a border area.
The footage cannot be independently verified due to a state of emergency in Poland that prevents reporters, activists and other non-residents from entering a zone near the border.
The Associated Press reported that all of the people who had managed to cross the border on Wednesday had been detained.
On Tuesday Poland reinforced its border with more riot police, a day after groups of migrants tried to storm through a razor-wire fence.Advertisement
The migrants are mostly from Iraq and Syria, though some have come from Africa.
It comes as German Chancellor Angela Merkel told Russian President Vladimir Putin by phone that Belarus's "instrumentalisation of migrants" was inhumane and unacceptable and asked him to press Belarus's government on the matter, her spokesperson said.
WHAT IS HAPPENING ON THE BELARUS-POLAND BORDER?
Thousands of migrants are currently gathered on Belarus's western border with Poland.
They have been involved in a series of efforts to make it into Poland, which is a member of the European Union.
Brussels believes they are being pushed into doing so by Belarusian president Alexander Lukashenko's "gangster-style" regime, having being enticed into the country by the "false promise of having easy entry into the EU".
Polish forces say Belarusian security personnel have subsequently encouraged the migrants to cross into Poland by "firing empty shots into the air, simulating dangerous events" – and providing tools to help them destroy the border fence.
The EU has imposed crippling sanctions on Belarus following Mr Lukanshenko's victory in last year's election, which international observers say was due to intimidation and vote-rigging.
His actions involving migrants – mainly from Iraq and Syria, but also from Africa – are seen as a response to the pressure created by those sanctions.
Migrants have also been massing at the borders of Belarus's other EU neighbours, Lithuania and Latvia.
Mr Lukanshenko retains the support of Russia and its president Vladimir Putin, backing widely seen as ensuring he cannot be ousted.
Russia's foreign minister, Sergei Lavrov, has suggested the EU should offer Belarus money to deal with the migrants, as it has with Turkey – although this is not seen as a realistic prospect.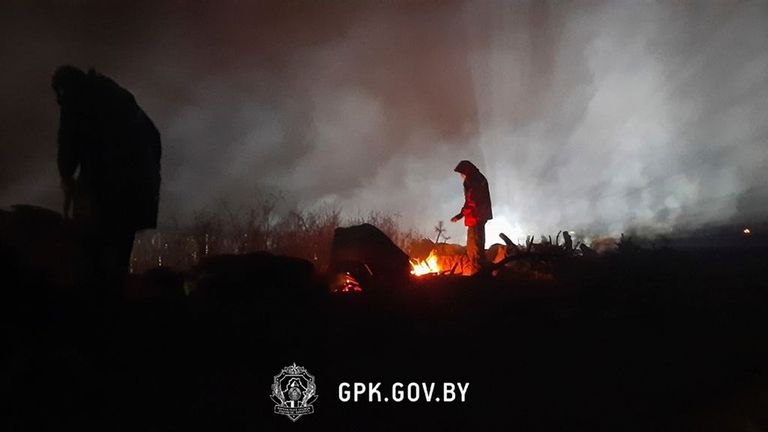 The Kremlin earlier blamed the European Union for the migrant crisis on the border between Belarus and Poland, saying it was failing to uphold its own humanitarian values and trying to "strangle" Belarus with plans to close part of the border.
And Russian ambassador Andrei Kelin told Sky News' Dermot Murnaghan that the issue had been "blown up" by the EU, and repeated the Kremlin's suggestion that the bloc should pay Belarus to deal with the migrants.
He insisted that the number of migrants on the border was far lower than the number that had made it into the UK from France this year.
"So what is it all about?" he said.
The latest developments come amid the most tense period to date after months of heavy migration on Belarus' borders with Poland, Lithuania, and to a lesser extent, Latvia.
The three European Union countries are located on the 27-nation bloc's eastern border.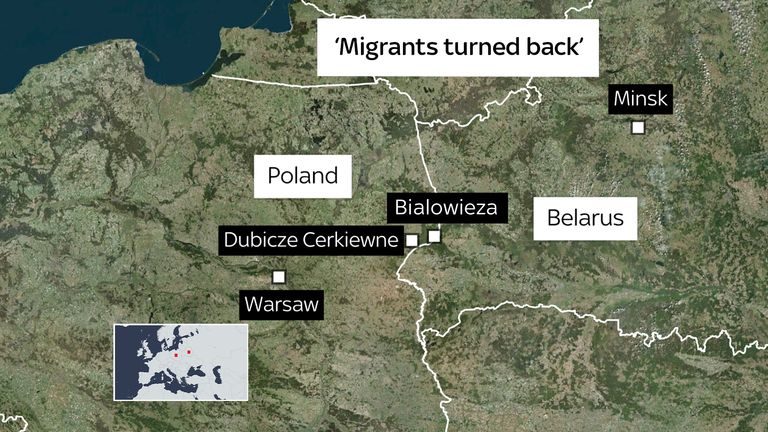 The European Union has accused the regime of Belarusian President Alexander Lukashenko of trying to create instability with a new wave of mass migration to the EU.
EU leaders allege Belarus is retaliating for sanctions the bloc imposed on Lukashenko's authoritarian government over its brutal crackdown on domestic dissent.
Thousands of people were jailed and beaten following months of protests after Lukashenko won a sixth term in a 2020 election that the opposition and the West saw as rigged.
MI6: China becomes single greatest focus for intelligence service as country accused of large-scale espionage operations against UK
The MI6 chief's most pointed language was reserved for the threat posed by China – one of what he described as the "big four" priorities alongside Russia, Iran, and international terrorism.
China has for the first time become the single greatest focus for MI6, with its chief warning the risk "is real" of a miscalculation by Beijing through underestimating western resolve to push back.
Pointing to Taiwan, Richard Moore said a desire by the ruling Chinese Communist Party – backed by an increasingly powerful military – to resolve a dispute over the territory's sovereignty by force if necessary was a "serious challenge to global stability and peace".
He also accused China of conducting "large-scale espionage operations against the UK and our allies" and he said countries globally should be "clear-eyed" when dealing with Beijing because of the potential to fall into a debt trap or to have data on their population exploited.
It is very unusual for such a senior security figure to speak in such stark terms about China.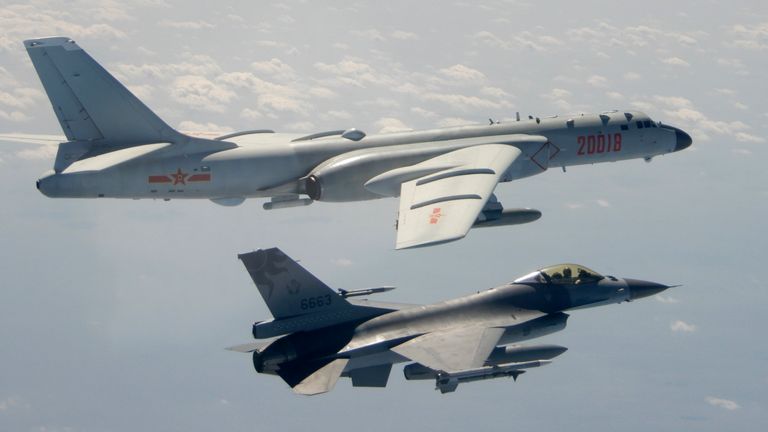 In his first public speech as head of the Secret Intelligence Service (SIS), Mr Moore covered other threats and challenges as well, warning:Advertisement
• Hostile actions by President Vladimir Putin's Russia, such as undermining stability in the Western Balkans, are "on an upward trend"
• The threat to the West from al Qaeda and Islamic State in Afghanistan will "likely increase" now that US-led forces have left and countering it "is an extremely difficult task"
• His top-secret agency must become more open and partner with technology firms to compete in a world where digital threats are "growing exponentially"
He made a recruitment pitch, stressing the need to increase diversity in his workforce and attract people who might never have previously thought about becoming a spy.
"Come and join!" he said at the International Institute for Strategic Studies think tank in London.
"There is no more important or – I believe – more exciting time to work for MI6."
While there has yet to be a female head of SIS, it is understood that three of the top four posts underneath Mr Moore are currently held by women.
They comprise the deputy chief as well as two of three director generals.
The spymaster's most pointed language was reserved for the threat posed by China – one of what he described as the "big four" priorities alongside Russia, Iran, and international terrorism.
"The tectonic plates are shifting as China's power, and its willingness to assert it, grows," he said
He revealed that resources focused by MI6 on China have this year surpassed the previous top priority of combatting terrorism in the wake of the September 11 2001 attacks on the United States.
"Adapting to a world affected by the rise of China is the single greatest priority for MI6," the spy chief said. "We are deepening our understanding of China across the UK intelligence community and widening the options available to the government in managing the systemic challenges that it poses."
This does not only mean gaining intelligence on what President Xi Jinping and his inner circle are thinking, it is also about how MI6 officers and the agents they run can operate undetected in a world where technology is making it harder for anyone to hide and for communications to stay secret.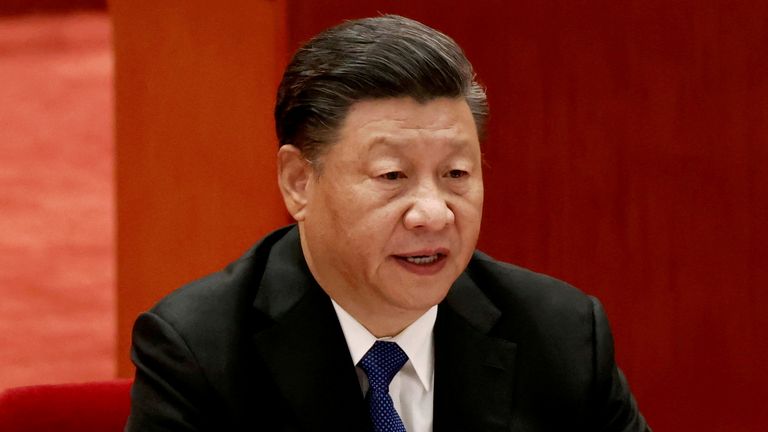 He described the Chinese Intelligence Services as "highly capable".
Mr Moore also voiced concern about efforts by the Chinese government "to distort public discourse and political decision making across the globe".
The MI6 boss said the days of China hiding its strength and biding its time are over.
"Beijing believes its own propaganda about Western frailties and underestimates Washington's resolve. The risk of Chinese miscalculation through over-confidence is real," he said.
Mr Moore talked about the less obvious threat to a country of agreeing to Chinese loans to build infrastructure, such as ports or railway lines, only to become indebted.
Or the risk of accepting a Chinese technological solution to a problem only to find a backdoor built into the system that enables China to access data on a population.
It is still rare for a head of MI6 to speak publicly.
In fact, the first public speech by a serving chief only happened in 2010.
But they could start to happen more often as Mr Moore said this is a way to be more accountable, inspire people to join, and to be more open.
COVID-19 around the world: Japan bans foreigners as other nations tighten restrictions on travellers
As cases of the new Omicron variant emerge across Europe, many countries are imposing travel bans or increasing quarantine requirements.
Japan will close to all foreign travellers from Tuesday, in a bid to slow the spread of the new Omicron variant of COVID-19.
It means the country will restore border controls it had only eased earlier this month for short-term business visitors, foreign students and workers.
First detected by researchers in southern Africa, much is still not known about B.1.1.529 but there are fears it could be more contagious than other variants – and more resistant to vaccines.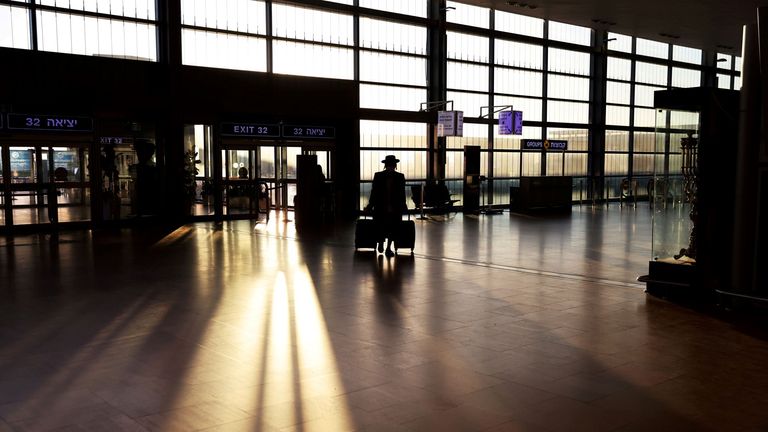 Global concern about the new strain is growing, with countries confirming cases for the first time and travel restrictions being imposed once again.Advertisement
Noting that the variant has already been detected in many countries and that closing borders often has limited effect, the World Health Organisation called for frontiers to remain open.
Here are the latest COVID-19 developments around the world.
Japan
The Japanese government has announced it will close its borders to all foreigners from Tuesday.
Prime Minister Fumio Kishida said: "We are responding to the Omicron variant with a strong sense of urgency."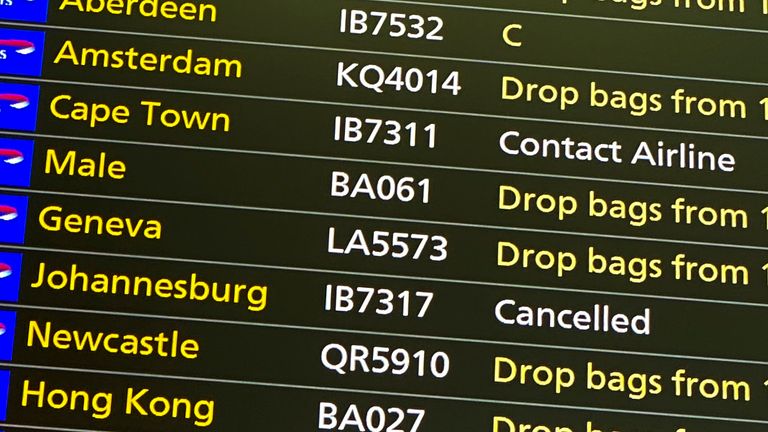 Over the weekend, Japan had tightened entry restrictions for people arriving from South Africa and eight other countries, requiring them to undergo a 10-day quarantine period.
Israel
On Saturday, Israel unveiled plans to ban all foreigners from entering the country, having already identified cases on home soil.
Prime Minister Naftali Bennett said the ban would last for 14 days, if the proposals are approved.
So far, Israel has one confirmed case of the Omicron variant and seven suspected cases.
Phone-tracking technology is going to be used to locate carriers of the new variant, in an attempt to stop it being transmitted to others.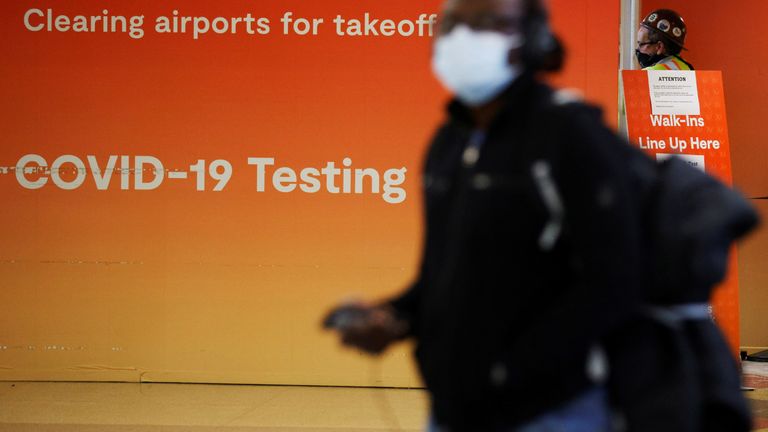 The US
From Monday, the US is going to restrict travel from South Africa and seven other countries in the region.
American citizens and permanent US residents – along with spouses and close friends – will be exempt.
No cases linked to Omicron have been detected in the country so far.
But Dr Anthony Fauci, America's top infectious disease specialist, told NBC that he wouldn't be surprised if the variant is already in the States, adding: "When you have a virus that is showing this degree of transmissibility… it almost invariably is ultimately going to go essentially all over."
In separate developments, New York Governor Kathy Hochul issued a COVID-19 "disaster emergency" declaration on Friday, with infections and hospitalisations increasing in the state.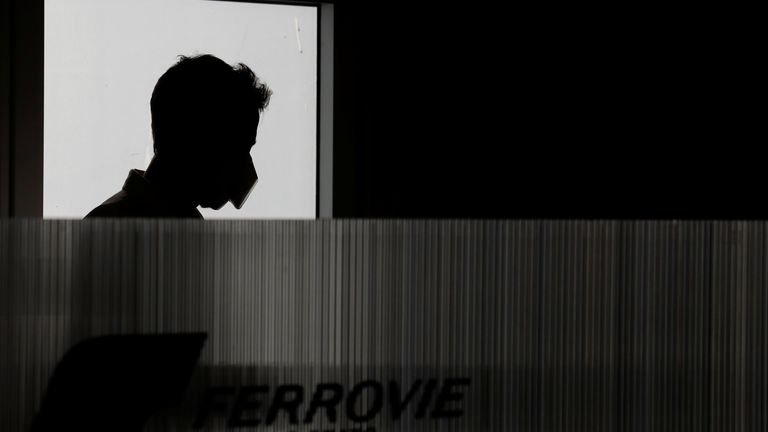 France
France's health ministry said on Sunday that it had detected eight possible cases of the Omicron variant, with the government saying it would tighten restrictions to contain its spread.
Canada
Canada has detected two cases of the Omicron variant in Ontario, authorities announced on Sunday.
Health officials Christine Elliott and Kieran Moore said in a joint statement that the cases were found in two people who had recently been in Nigeria.
Ontario has focused rapid COVID-19 testing on travellers who have been to South Africa, Botswana, Lesotho, Eswatini, Mozambique, Namibia and Zimbabwe.
Italy
On Saturday, health officials confirmed that a case of the Omicron variant had been detected in Italy.
The business traveller had flown from Mozambique, landing in Rome on 11 November and returning to his home in Naples.
Five of his family members, including two children, have also tested positive. All are now isolating and have light symptoms.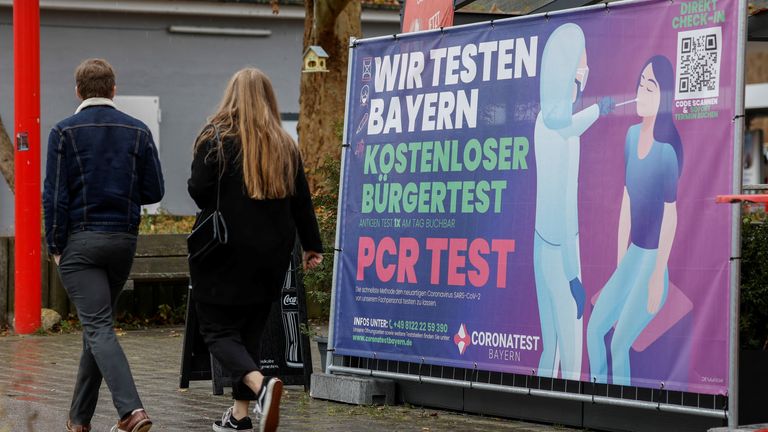 Germany
The Omicron variant has also been detected in three travellers who arrived on a flight from South Africa on 24 November.
Two cases were detected in the southern state of Bavaria, the other in Hesse in the west of the country.
Germany, like other parts of Europe, was suffering under a new wave of cases before Omicron was detected.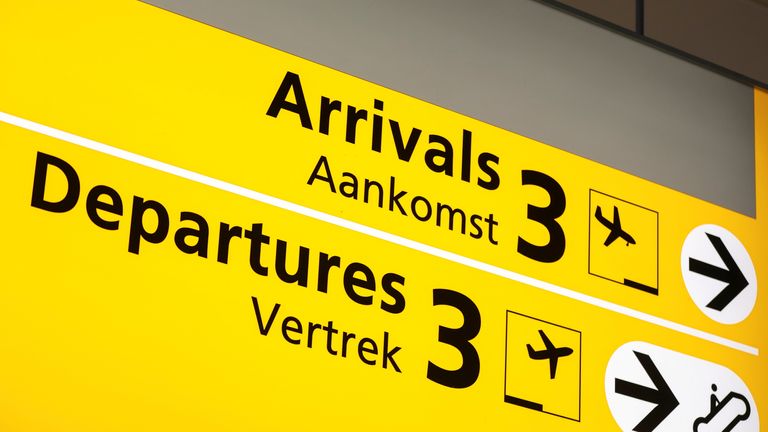 The Netherlands
Dutch health officials have detected 61 COVID-19 cases among people who flew from South Africa – 13 of which are confirmed to be Omicron.
The Dutch health minister said it was possible that there were more cases of the new COVID variant in the country.
The KLM airline expressed surprise at the high number of cases because all passengers had either tested negative or shown proof of vaccination before boarding flights from Cape Town and Johannesburg.
Authorities in the country are now attempting to contact 5,000 passengers who have travelled from South Africa, Botswana, Eswatini, Lesotho, Mozambique, Namibia or Zimbabwe since Monday.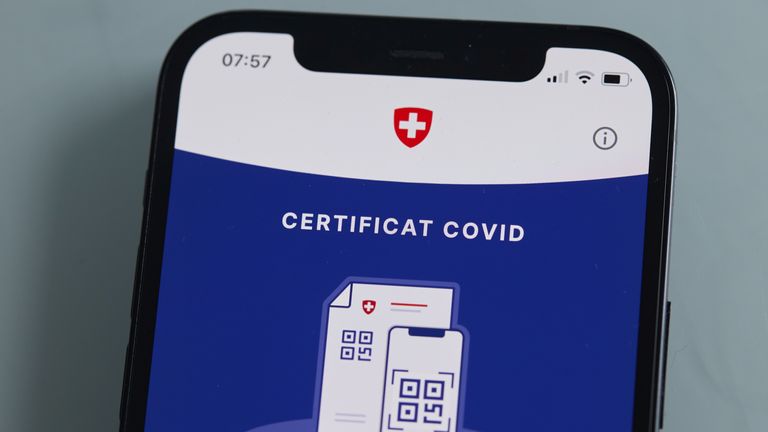 Switzerland
The first case of the variant has been discovered in Switzerland, the government announced late on Sunday as the country tightened its entry restrictions. The case relates to a person who returned from South Africa around a week ago.
Quarantine requirements have been widened to a greater number of travellers in an attempt to stem the spread of the Omicron variant.
Those arriving from 19 countries, including the UK, the Czech Republic, the Netherlands, Egypt and Malawi must prevent a negative COVID-19 test and isolate for 10 days on arrival.
Direct flights have already been banned from South Africa and the surrounding region.
Despite cases being detected in Italy and Germany, both neighbours of Switzerland, travel restrictions have not been imposed on any countries it shares borders with.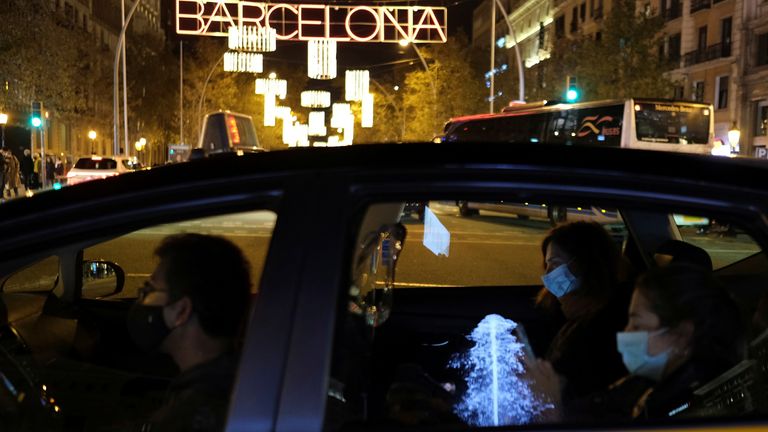 Spain
From next month, British tourists will only be able to enter Spain if they can show proof of a COVID-19 vaccination.
Until now, unvaccinated travellers were allowed into the country if they could present a negative PCR test that was taken 72 hours before their arrival.
"The appearance of new variants causing (coronavirus) obliges an increase in restrictions," the government said.
Spain's Industry, Trade and Tourism department said approximately 300,000 British people who are resident in Spain will not be affected by the new measures.
Indonesia
All travellers arriving in the country will need to quarantine for at least seven days – with those arriving from southern Africa and Hong Kong having to self isolate for 14 days.
Indonesia is due to take over the presidency of the G20 on 1 December, and has said that delegates attending will not be affected by the restrictions.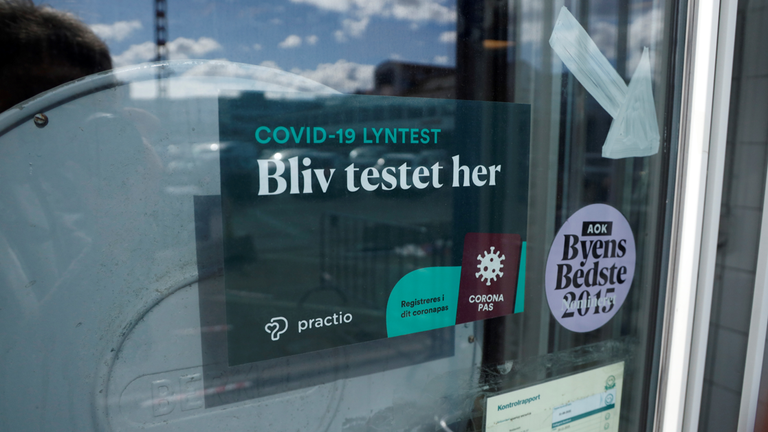 Denmark
Two cases of Omicron have been identified in Denmark in two travellers who arrived from South Africa.
Henrik Ullum, director of the State Serum Institute, said: "This was to be expected, and our strategy is therefore to continue intensive monitoring of the infection in the country."
The pair have been put in isolation, and contacts are being traced.
Australia
Two cases of Omicron have also been found in Australia, in the state of New South Wales.
Again, the pair involved were on a flight from southern Africa, both had been vaccinated and were asymptomatic. They are now isolating, and 260 other people on the flight are also in isolation.
Anyone arriving in the state from southern African countries, and the Seychelles, have been told they must isolate for 14 days.
Still, the nation plans to press ahead with plans to reopen borders to skilled migrants and students from 1 December.
New Zealand
New Zealand has announced it is restricting travel from nine southern African countries.
Thailand
Tourist-dependent Thailand, which only recently began loosening its tight border restrictions to leisure travellers, has also announced a ban on visitors from eight African countries.
Morocco
The country's foreign ministry said it is suspending all incoming air travel from around the world from Monday for two weeks.
In a tweet, it said the move had been taken to "preserve the achievements realised by Morocco in the fight against the pandemic, and to protect the health of citizens".
Fully vaccinated travellers finally able to enter New Zealand from next year without quarantine
This gradual reopening will bring to an end some of the world's tightest pandemic restrictions, which were put in place almost two years ago by the South Pacific country.
Fully vaccinated travellers will finally be able to enter New Zealand from 30 April 2022, easing border restrictions that have been in place since March last year.
Meanwhile, fully vaccinated New Zealanders and residence visa holders in neighbouring Australia will be able to enter the country from 16 January.
Fully vaccinated residents and visa holders from most other countries will be allowed in from 13 February.
This gradual reopening will bring to an end some of the world's tightest pandemic restrictions, which were put in place almost two years ago by the South Pacific country to limit the spread of COVID-19 and help its economy bounce back.
But an outbreak of the highly contagious Delta variant earlier this year has forced a shift in strategy, with the main city of Auckland now only gradually opening up as vaccination rates climb.Advertisement
COVID-19 Response Minister Chris Hipkins said: "A phased approach to reconnecting with the world is the safest approach to ensure risk is carefully managed.
"This reduces any potential impacts on vulnerable communities and the New Zealand health system."
Under the new rules, travellers will no longer be required to stay at state quarantine facilities, but other measures will be put in place – including a negative pre-departure test, proof of vaccination and a coronavirus test upon arrival.
ANALYSIS BY SHARON MARRIS, NEWS REPORTER AND NEW ZEALANDER IN THE UK
New Zealand has been praised by experts around the world for its tough stance on COVID-19 – it locked down tough and early when the seriousness of the virus became known last year.
But when it closed its international borders, it locked many thousands of overseas-based Kiwis out of their own country.
In recent months, entry for citizens (and a very narrow group of exceptions) has been largely limited by the number of spaces in hotel isolation (Managed Isolation and Quarantine). Getting a space currently means entering a lottery, where tens of thousands of New Zealanders fight for what is usually between 3,000 and 4,000 spots.
It is possible to get an emergency space but the bar is set extremely high – New Zealanders have been stranded overseas with expired visas, some have missed saying goodbye to dying relatives, and a growing number are struggling with the mental effects of what it means to be effectively shut out of one's country.
Today's announcement will be met with a huge amount of relief but there will also be frustration that the changes are still so far away.
For months, the number of cases detected among returning New Zealanders has been in single figures – with pre-departure tests and some flights also now requiring vaccination, most of the risk is eliminated before boarding the plane.
The number of cases being picked up among returning New Zealanders is far outstripped by those emerging daily in Auckland.
New Zealanders who travel or live overseas have always felt safe in the knowledge that our passports mean we can go home if things turn sour. And we're lucky that home is one of the safest and most beautiful places in the world.
New Zealand's border policies during the pandemic, have shattered that. New Zealanders overseas will welcome the changes, but I don't think many of us will ever look at our passports in the same way again.