Celltel Networks Limited, a member of Kludjeson International Limited Group has signed a US$5.5 million (GHS33 million) assembling plant equipment deal with China Hainergy New Energy Corporation Limited (CHNECL) as it readies to deploy its nationwide Ghana Smart Cities project.
That, in addition to the factory building, brings the whole deal to about GHS50 million
A copy of the agreement, available to Techgh24 indicates that China Hainergy, a member of the Haier Group in China will supply a number of assembling plant equipment and devices components.
Some of the equipment includes TV assembly line, inspecting line, packing line, clean room, LCM material area, computer and smartphone assembly line for desktop, tablet, laptop, smartphone and decoder assembling, as well as packing line and ageing room.
The equipment also includes components and materials for TV, desktop, tablet, laptop, smartphone and decoders as well as labour protection products, tools and equipment.
KQ Devices
Meanwhile, Celltel has already designed its line of KQ branded devices waiting to be brought to life by electronic appliances and devices giant, Haier Group.
The devices would include KQ Feature phones, KQ Smartphones, KQ tablets, KQ laptops, KQ Desktop computers and KQ televisions.
There is at least one feature phone and four smartphone brands; four tablet brands, some of which come with detachable keyboards; six laptop brands, five Desktop computer brands, two all-in-one Android Smart TV/computer brands and a wide range of Triple Play Android TV brands.
CEO and Chairman of Celltel, Dr. Prince Kofi Kludjeson told Techgh24 that the rollout of the "super-highspeed" nationwide Wi-Fi network promises to create thousands of jobs for young entrepreneurs, who would come onboard as agents in various communities and identifiable groups on commission basis.
He said, as a prelude to its official launch, Celltel and its renowned internationally acclaimed strategic partners and collaborators will be providing connectivity to interested customers, homes and institutions across all the 275 constituencies in the country.
"We have earmarked at least 5000 connected devices with unlimited Wi-Fi per each district to create a critical mass of users across the country," he said.
Monthly Subscription
According to him, the smart devices, which are on monthly subscription basis, come with already installed aapps for great experience, adding that the smart TV's in particular, come with over 2000 channels covering news, entertainment, sports and digital learning for students.
"The monthly subscription plan will be underwritten by either our approved partner banks or the customer's own bank," Dr. Kludjeson said.
One million homes/institutions
Dr. Kludjeson said Celltel will also focus on providing connectivity to local government offices as well as educational, health, and other public services institutions across the districts, to ensure they are able to provide services to Ghanaians smoothly.
"Celltel aims to connect at least one million homes and institutions nationwide in supporting government efforts to transform Ghana into a Digital Economy," he said.
"Our computer lab division will support all schools in Ghana with computer laboratories and ICT centers to enhance online learning in Ghana amid Covid-19 pandemic challenges. Online services and e-learning and video conference platforms are part of our standard platforms," he added.
Dr. Kludjeson said Celltel is glad about setting up the factory in Ghana to assemble the KQ brand of smart devices to provide jobs to the teeming youth in the area of technology.
He is therefore calling on interested workers unions, professional unions as well as the security services, and corporate sector workers to take advantage of the packages Celltel has for them ahead of the rollout of the Ghana Smart Cities nationwide Wi-Fi project by visiting Celltel's website.
"Some of the professional groups who can take advantage of this opportunity are Ghana National Association of Teachers (GNAT), National Association of Graduate Teachers (NAGRAT), Tertiary Education Workers Union (TEWU), Conference of Heads of Assisted Secondary Schools (CHASS) and others."
Hainergy GM
Meanwhile, General Manager of Hainergy New Energy Corp., Feng Guomin, wrote to Techgh24 stating that "Celltel Networks Limited is our strategic partner in Ghana. The Ghana Smart Cities project is very exciting and promising. We will work with Celltel closely with our expertise, experience, first class equipment and products to implement all the plans."
He added that his company believes the Ghana Smart Cities project it will be a great success, not only as a milestone of the cooperation between the two companies, but also, it will contribute to the development of Ghana and also benefit Ghanaians.
Meta: UK competition regulator tells Facebook owner to sell GIF library Giphy
The investigation into the acquisition has been acrimonious, with Meta previously being fined £50m by the CMA for deliberately refusing to comply with the regulator's inquiries.
Facebook's owner Meta has been issued a legally binding order to sell the GIF library Giphy after an investigation found the takeover "could harm social media users and UK advertisers".
The Competition and Markets Authority (CMA) launched an in-depth investigation into the deal in April after raising a number of concerns. It subsequently warned of the potential forced sale in August.
Giphy – a website for making and sharing animated images, known as GIFs – was acquired by Facebook (now Meta) in May last year to integrate the GIFs with Instagram, but the CMA has now ordered the acquisition to be unravelled.
Sky News understands Facebook intends to appeal the CMA's decision. It has four weeks to do so and the appeal would go to a the Competition Appeal Tribunal, which is independent of the CMA.
Meta could potentially challenge that ruling in the UK courts, but only on points of law.Advertisement
Stuart McIntosh, who chaired the independent inquiry into the acquisition, said: "The tie-up between Facebook and Giphy has already removed a potential challenger in the display advertising market.
"Without action, it will also allow Facebook to increase its significant market power in social media even further, through controlling competitors' access to Giphy GIFs.
"By requiring Facebook to sell Giphy, we are protecting millions of social media users and promoting competition and innovation in digital advertising," Mr McIntosh explained.
The investigation into the acquisition has seen points of acrimony, with Meta being fined a record £50m by the CMA for deliberately refusing to comply with the regulator's inquiries.
Meta argued that it has been in compliance with the competition watchdog's primary orders at all times.
At the time of the fine, the company complained that the CMA delayed for seven months a request to amend these orders which was eventually agreed in what the company described as nearly an identical manner to what had been requested.
When Facebook first merged with Giphy it terminated the image library's advertising services, "removing an important source of potential competition" according to the CMA.
This was considered "particularly concerning given that Facebook controls nearly half of the £7 billion display advertising market in the UK".
However in Meta's response to the preliminary findings, the social media giant described the acquisition as a simple vertical merger and said that Giphy was financially troubled and suggested that its attempts to monetise its GIF library for display advertising were unsuccessful.
"If GIF paid alignments were the promising business model that the CMA believes they are, then one would expect to encounter them in the real-world at scale… Yet that is not the case," the response stated.
According to the regulator, the acquisition potentially also enabled the social media giant to change the terms of access to the GIF library for its competitors.
"For example, Facebook could require Giphy customers, such as TikTok, Twitter and Snapchat, to provide more user data in order to access Giphy GIFs.
"Such actions could increase Facebook's market power, which is already significant," the regulator said.
In its review of the merger, the CMA said it risked entrenching Meta's market dominance, noting that its platforms (Facebook, Instagram, and WhatsApp) already accounted for 73% of all user time spent on social media in the UK.
A spokesperson for Meta said: "We disagree with this decision. We are reviewing the decision and considering all options, including appeal. Both consumers and Giphy are better off with the support of our infrastructure, talent, and resources.
"Together, Meta and Giphy would enhance Giphy's product for the millions of people, businesses, developers and API partners in the UK and around the world who use Giphy every day, providing more choices for everyone."
COVID-19: Mild and moderate cases during pregnancy doesn't harm babies' brains, finds study
Parents should be reassured, there is "no evidence that a maternal SARS-CoV-2 infection has any effect on the brain development of the unborn child" say scientists.
Mild and moderate coronavirus infections in pregnant women appear to have no effect on the brain of the developing foetus according to a new study.
Two years into the COVID-19 pandemic "there is evidence that pregnant women are more vulnerable" to the coronavirus, according to a study presented to the Radiological Society of North America (RSNA).
The new study aims to identify what the possible consequences are for the unborn child if the mother is infected during pregnancy, and to study the likelihood of the virus being passed on to the foetus.
"Women infected with SARS-CoV-2 during pregnancy are concerned that the virus may affect the development of their unborn child, as is the case with some other viral infections," said Dr Sophia Stoecklein, senior author of the study.Advertisement
"So far, although there are a few reports of vertical transmission to the foetus, the exact risk and impact remain largely unclear," added Dr Stoecklein, from the department of radiology at Ludwig Maximilian University of Munich.
"The aim of our study was to fill this gap in knowledge regarding the impact of a maternal SARS-CoV-2 infection on foetal brain development," she added.
MRI scans were used to study 33 pregnant women who were infected with COVID-19 during their pregnancy, with the women roughly 28 weeks into the pregnancies at the time of the scan.
The scans were evaluated by radiologists with years of experience in foetal MRIs who found that the brain development in the assessed areas was age-appropriate in all of the children, with no findings indicating any infection affected the brains.
"In our study, there was no evidence that a maternal SARS-CoV-2 infection has any effect on the brain development of the unborn child," Dr Stoecklein said. "This fact should help to reassure affected parents."
But she cautioned that only mothers with mild to moderate symptoms who were not hospitalised were included in the study, meaning the impact of "severe infection on brain development in the foetus has not been conclusively determined".
Earth's water may have come from the Sun, new research finds
Researchers at the University of Glasgow say there is evidence that particles emitted by the Sun created water on the surface of dust grains on asteroids which hit Earth.
The origin of Earth's water continues to be debated by scientists – whether it was here when the planet formed or if it had an extraterrestrial source.
But new research points the finger at a previously uncounted point of origin: the Sun at the centre of our solar system.
According to astronomers, solar radiation may have created water on the surface of dust grains carried on asteroids that smashed in to our planet billions of years ago.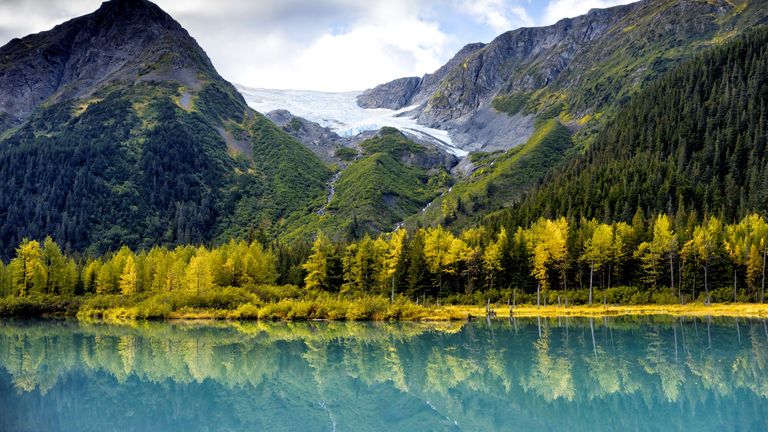 Water covers more than 70% of our planet's surface, but the exact source has puzzled scientists for decades if not longer.
A new study published in the journal Nature Astronomy suggests it has found a source which perfectly matches the isotopic signature of water on Earth.Advertisement
The research, led by scientists at the University of Glasgow, used a process called atom probe tomography to analyse different asteroid samples – some of which carry water and others which orbit too close to the Sun to do so.
Dr Luke Daly, from the University of Glasgow and the study's lead author, said: "The solar winds are streams of mostly hydrogen and helium ions which flow constantly from the Sun out into space.
"When those hydrogen ions hit an airless surface like an asteroid or a space-borne dust particle, they penetrate a few tens of nanometres below the surface, where they can affect the chemical composition of the rock.
"Over time, the 'space weathering' effect of the hydrogen ions can eject enough oxygen atoms from materials in the rock to create H2O – water – trapped within minerals on the asteroid.
"Crucially, this solar wind-derived water produced by the early solar system is isotopically light."
"That strongly suggests that fine-grained dust, buffeted by the solar wind and drawn into the forming Earth billions of years ago, could be the source of the missing reservoir of the planet's water," Dr Daly added.Thousands of people could still be killed by a completely unpredictable asteroid impact
Professor Bland at Curtin University explained that the existing theory that water was carried to Earth in the final stages of its formation by water-carrying asteroids didn't hold up to examination.
"Previous testing of the isotopic 'fingerprint' of these asteroids found they, on average, didn't match with the water found on Earth meaning there was at least one other unaccounted for source," he said.
"Our research suggests the solar wind created water on the surface of tiny dust grains and this isotopically lighter water likely provided the remainder of the Earth's water," added the professor, who works at the Space Science and Technology Centre at Curtin University.
"This new solar wind theory is based on meticulous atom-by-atom analysis of miniscule fragments of an S-type near-Earth asteroid known as Itokawa, samples of which were collected by the Japanese space probe Hayabusa and returned to Earth in 2010.
"Our world-class atom probe tomography system here at Curtin University allowed us to take an incredibly detailed look inside the first 50 nanometres or so of the surface of Itokawa dust grains, which we found contained enough water that, if scaled up, would amount to about 20 litres for every cubic metre of rock," added Professor Bland.