Celltel Networks Limited, a member of Kludjeson International Limited Group has signed a US$5.5 million (GHS33 million) assembling plant equipment deal with China Hainergy New Energy Corporation Limited (CHNECL) as it readies to deploy its nationwide Ghana Smart Cities project.
That, in addition to the factory building, brings the whole deal to about GHS50 million
A copy of the agreement, available to Techgh24 indicates that China Hainergy, a member of the Haier Group in China will supply a number of assembling plant equipment and devices components.
Some of the equipment includes TV assembly line, inspecting line, packing line, clean room, LCM material area, computer and smartphone assembly line for desktop, tablet, laptop, smartphone and decoder assembling, as well as packing line and ageing room.
The equipment also includes components and materials for TV, desktop, tablet, laptop, smartphone and decoders as well as labour protection products, tools and equipment.
KQ Devices
Meanwhile, Celltel has already designed its line of KQ branded devices waiting to be brought to life by electronic appliances and devices giant, Haier Group.
The devices would include KQ Feature phones, KQ Smartphones, KQ tablets, KQ laptops, KQ Desktop computers and KQ televisions.
There is at least one feature phone and four smartphone brands; four tablet brands, some of which come with detachable keyboards; six laptop brands, five Desktop computer brands, two all-in-one Android Smart TV/computer brands and a wide range of Triple Play Android TV brands.
CEO and Chairman of Celltel, Dr. Prince Kofi Kludjeson told Techgh24 that the rollout of the "super-highspeed" nationwide Wi-Fi network promises to create thousands of jobs for young entrepreneurs, who would come onboard as agents in various communities and identifiable groups on commission basis.
He said, as a prelude to its official launch, Celltel and its renowned internationally acclaimed strategic partners and collaborators will be providing connectivity to interested customers, homes and institutions across all the 275 constituencies in the country.
"We have earmarked at least 5000 connected devices with unlimited Wi-Fi per each district to create a critical mass of users across the country," he said.
Monthly Subscription
According to him, the smart devices, which are on monthly subscription basis, come with already installed aapps for great experience, adding that the smart TV's in particular, come with over 2000 channels covering news, entertainment, sports and digital learning for students.
"The monthly subscription plan will be underwritten by either our approved partner banks or the customer's own bank," Dr. Kludjeson said.
One million homes/institutions
Dr. Kludjeson said Celltel will also focus on providing connectivity to local government offices as well as educational, health, and other public services institutions across the districts, to ensure they are able to provide services to Ghanaians smoothly.
"Celltel aims to connect at least one million homes and institutions nationwide in supporting government efforts to transform Ghana into a Digital Economy," he said.
"Our computer lab division will support all schools in Ghana with computer laboratories and ICT centers to enhance online learning in Ghana amid Covid-19 pandemic challenges. Online services and e-learning and video conference platforms are part of our standard platforms," he added.
Dr. Kludjeson said Celltel is glad about setting up the factory in Ghana to assemble the KQ brand of smart devices to provide jobs to the teeming youth in the area of technology.
He is therefore calling on interested workers unions, professional unions as well as the security services, and corporate sector workers to take advantage of the packages Celltel has for them ahead of the rollout of the Ghana Smart Cities nationwide Wi-Fi project by visiting Celltel's website.
"Some of the professional groups who can take advantage of this opportunity are Ghana National Association of Teachers (GNAT), National Association of Graduate Teachers (NAGRAT), Tertiary Education Workers Union (TEWU), Conference of Heads of Assisted Secondary Schools (CHASS) and others."
Hainergy GM
Meanwhile, General Manager of Hainergy New Energy Corp., Feng Guomin, wrote to Techgh24 stating that "Celltel Networks Limited is our strategic partner in Ghana. The Ghana Smart Cities project is very exciting and promising. We will work with Celltel closely with our expertise, experience, first class equipment and products to implement all the plans."
He added that his company believes the Ghana Smart Cities project it will be a great success, not only as a milestone of the cooperation between the two companies, but also, it will contribute to the development of Ghana and also benefit Ghanaians.
Egypt: Researchers identify prehistoric killer whale that walked on land from 43-million-year-old fossil
"It could kill any creature it crossed paths with," say Egyptian scientists who have discovered a new killer whale fossil from the African nation's Whale Valley.
Egyptian scientists have identified a new species of prehistoric killer whale from a 43-million-year-old fossil that was found in Eqypt's "Whale Valley".
The ancient fossil, which was unearthed in Egypt's Western Desert in 2008, has been named as Phiomicetus Anubis, after the god of death in ancient Egypt.
The four-legged whale which is from the family of Protecetids, are extinct semi-aquatic whales that lived from 34 to 59 million years ago.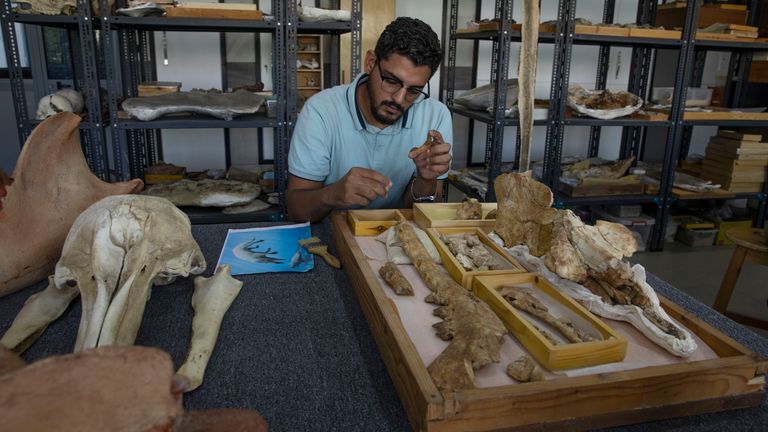 Professor Hesham Sallam, of Mansoura University in Egypt, the leading palaeontologist who examined the fossil, said the creature was unique in its versatility in the way its features were adapted to hunt on land and in the sea – characteristics that made it stand out among other whale fossils.
"We chose the name Anubis because it had a strong and deadly bite," said Professor Sallam.
"It could kill any creature it crossed paths with."
The creature's killer features included an elongated skull and snout. Its sharp hearing and acute sense of smell meant it was an efficient carnivore capable of hunting down, before grasping and chewing prey, researchers said. It was approximately 2.7m (9ft) long and weighed around 600kg.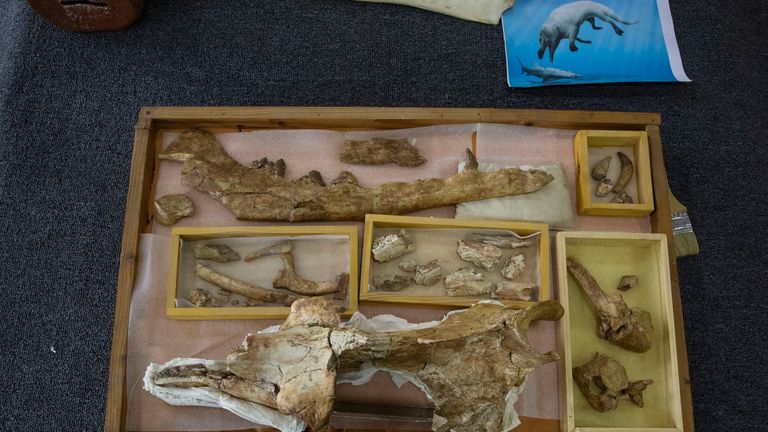 Professor Sallam said his team did not start examining the fossil until 2017 because he wanted to assemble the best and the most talented Egyptian palaeontologists for the study.
The fossil sheds light on the evolution of whales from herbivore land mammals into a carnivorous species that today live exclusively in water.
The oldest fossil whales are approximately 50 million years old and are believed to have originated in modern-day Pakistan and India.
Scientists have not been able to reach a conclusive answer as to when whales moved from land to sea.
The location of the discovery of the fossil will give a clue as to how and when this happened.
Former US intelligence officers admit to mercenary hacking for United Arab Emirates
The charges against them are published amid growing concerns that foreign states may be compromising US security by recruiting intelligence personnel to bolster their own capabilities.
Three former US intelligence and military officers have admitted working as mercenaries for the United Arab Emirates (UAE) and carrying out sophisticated hacking operations targeting victims in America.
The charges against them are published amid growing concerns that foreign states may be compromising US security by recruiting intelligence personnel to bolster their own capabilities.
The men, named as Marc Baier, Ryan Adams, and Daniel Gericke in an unsealed court document, were accused of breaking computer crime laws and export controls and have agreed to pay more than $1.6m (£1.1m) as part of a deferred prosecution agreement.
According to the court document, after leaving US government employment, the three men worked for an American company that provided licensed services to the UAE.
But in January 2016, "after receiving an offer for higher compensation and an expanded budget", the men left this company and joined a new one called Dark Matter based in the gulf state.
The clandestine unit helped the UAE spy on human rights activists, journalists, and rival governments, according to Reuters, which reported on the clandestine unit called Project Maven before these charges were made public.
While working for the UAE business, which did not have an export licence to receive hacking technology from the US, the men developed "two similar 'zero-click' computer hacking and intelligence gathering systems" that were used to target victims in America.
"Today's announcement shines a light on the unlawful activity of three former members of the US intelligence community and military," said Steven D'Antuono of the FBI's Washington Field Office.
"These individuals chose to ignore warnings and to leverage their years of experience to support and enhance a foreign government's offensive cyber operations.
"These charges and the associated penalties make clear that the FBI will continue to investigate such violations."
Bryan Vorndran, of the FBI's cyber division, added: "This is a clear message to anybody, including former US government employees, who had considered using cyberspace to leverage export-controlled information for the benefit of a foreign government or a foreign commercial company – there is risk, and there will be consequences."
As part of the deferred prosecution, Baier, Adams, and Gericke must cooperate with the Department of Justice's investigation.
They have agreed to pay $750,000 (£542,000), $600,000 (£430,000), and $335,000 (£242,000) respectively over the next three years – funds which they are prohibited from being reimbursed for by the UAE.
They have also received a lifetime ban on receiving any security clearances, as well as from being employed as hackers or by "certain UAE organisations".
Apple issues emergency software update after discovery of 'zero click' malware
The spyware has been attributed "with high confidence" to Israel's NSO Group.
Apple has issued an emergency software update after a flaw was found that allowed spyware attributed to Israel's NSO Group to infect an iPhone, Apple Watch, or Mac computer without the user having to click on anything.
The malware was found on the phone of an unidentified Saudi activist by Canadian internet security watchdog Citizen Lab.
It is the first time that a "zero-click" exploit – an exploit that allows an attacker to hack into the device without requiring the victim to click on anything, meaning they have no chance to catch the attack – has been caught and analysed.
The phone is thought to have been infected in February, although the researchers discovered the malicious code on 7 September and immediately alerted Apple.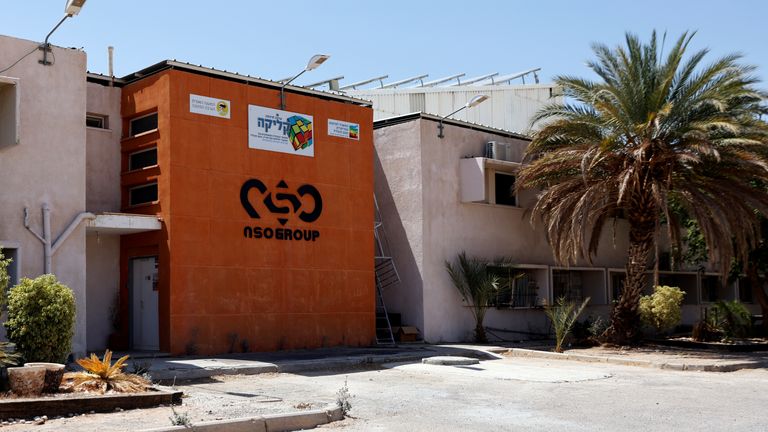 Ivan Krstic, head of Apple security engineering and architecture, said: "After identifying the vulnerability used by this exploit for iMessage, Apple rapidly developed and deployed a fix in iOS 14.8 to protect our users.Advertisement
"Attacks like the ones described are highly sophisticated, cost millions of dollars to develop, often have a short shelf life, and are used to target specific individuals."
"While that means they are not a threat to the overwhelming majority of our users, we continue to work tirelessly to defend all our customers, and we are constantly adding new protections for their devices and data," he added.
Citizen Lab researcher Bill Marczak said there was high confidence that Israeli surveillance firm NSO Group was behind the attack, although it was "not necessarily" being attributed to the Saudi government.
In a statement to Reuters, NSO did not confirm or deny that it was behind the technique, saying only that it would "continue to provide intelligence and law enforcement agencies around the world with life-saving technologies to fight terror and crime".
Citizen Lab has previously found evidence of zero-click malware being used to hack the phones of some journalists and other targets but Mr Marczak said this was the first time one had been captured "so we can find out how it works".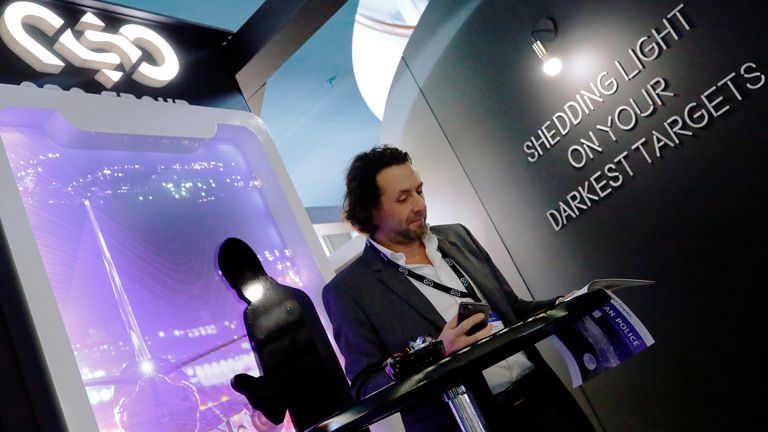 Security experts have said that the average user does not need to be too concerned, as such attacks tend to be highly targeted, but the exploit was still alarming.
Mr Marczak said that malicious files were put on the Saudi activist's phone via the iMessage app before the phone was hacked with NSO's Pegasus spyware.
This meant the phone was able to spy on its user, without them even knowing.
Citizen Lab researcher John Scott-Railton said: "Popular chat apps are at risk of becoming the soft underbelly of device security. Securing them should be top priority."
In July it was reported that NSO Group's spyware had been used to target journalists, political dissidents and human rights activists.
NSO Group says that its spyware is only used by governments to hack the mobile phones of terrorists and serious criminals, but a leaked list featuring more than 50,000 phone numbers of interest to the company's clients suggested that it is being used much more broadly.
More than 1,000 individuals in 50 countries were allegedly selected for potential surveillance – including 189 journalists and more than 600 politicians and government officials, according to Paris-based journalism non-profit Forbidden Stories and Amnesty International, as well as their media partners.
Mr Marczak said on Monday: "If Pegasus was only being used against criminals and terrorists, we never would have found this stuff."
It has also been reported that the FBI is investigating NSO Group, and Israel has set up a senior inter-ministerial team to examine the allegations surrounding how the spyware is being used.