COVID-19: Austria to place millions of unvaccinated people into lockdown 'in days' as coronavirus cases surge
The country has the lowest vaccination rate of any western European nation apart from Liechtenstein, with many people there sceptical about having the jab.
Austria is just "days" away from placing millions of people who are not fully-vaccinated against coronavirus into lockdown, as daily infections are at a record high, the country's chancellor has said.
Around 65% of Austria's population is fully vaccinated against COVID-19, national statistics show.
However, according to data from the European Centre for Disease Prevention and Control, the country has the lowest vaccination rate of any western European country, apart from Liechtenstein – that has a population of around 40,000.
Many Austrians are sceptical about vaccinations, a view encouraged by the far-right Freedom Party, the third-biggest in parliament.
Under an incremental government plan agreed in September, once 30% of intensive-care beds are occupied by COVID-19 patients, people not vaccinated against the coronavirus will be placed under lockdown rules, with restrictions on their daily freedoms.Advertisement
The current level is 20% and it is rising fast.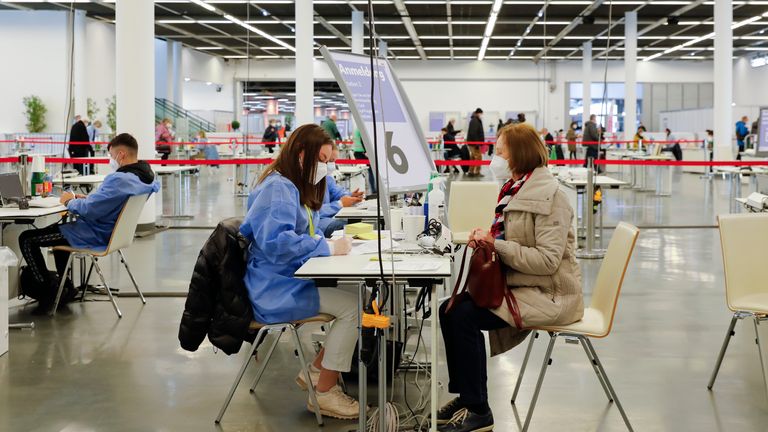 On Thursday, official figures showed 760.6 reported new cases per 100,000 residents over the previous seven days – a rate three times that of neighbouring Germany, where record numbers are also causing alarm.
"According to the incremental plan we actually have just days until we have to introduce the lockdown for unvaccinated people," Chancellor Alexander Schallenberg told a news conference, adding that Austria's vaccination rate is "shamefully low".
"A lockdown for the unvaccinated means one cannot leave one's home unless one is going to work, shopping (for essentials), stretching one's legs – namely exactly what we all had to suffer through in 2020," Mr Schallenberg said, referring to three national lockdowns last year.
Austria has taken a series of measures to curb the spread of COVID-19 and encourage more people to get vaccinated in recent weeks.
On Monday, new rules took effect barring unvaccinated people who haven't recovered from an infection from restaurants, hotels, hairdressing salons and large public events.
During a visit on Thursday to Bregenz in western Austria, Mr Schallenberg said that a lockdown for the unvaccinated is "probably unavoidable" and that the unvaccinated face an "uncomfortable" winter and Christmas, the Austria Press Agency reported.
"I don't see why two-thirds should lose their freedom because one-third is dithering," Schallenberg said. "For me, it is clear that there should be no lockdown for the vaccinated out of solidarity for the unvaccinated."
Upper Austria province, which has the lowest vaccination rate and the highest infection rate of Austria's nine provinces, said it plans to take the lead on placing the unvaccinated into lockdown by introducing the measure on Monday.
The surge in cases in Austria comes at a time when Eastern European states, with the continent's lowest vaccination rates, are experiencing some of the world's highest daily death tolls per capita.
Dutch experts on Thursday recommended a two-week partial lockdown, which would be western Europe's first since vaccines were widely deployed, while other countries are requiring vaccination certificates to enter public spaces.
COVID-19: Mild and moderate cases during pregnancy doesn't harm babies' brains, finds study
Parents should be reassured, there is "no evidence that a maternal SARS-CoV-2 infection has any effect on the brain development of the unborn child" say scientists.
Mild and moderate coronavirus infections in pregnant women appear to have no effect on the brain of the developing foetus according to a new study.
Two years into the COVID-19 pandemic "there is evidence that pregnant women are more vulnerable" to the coronavirus, according to a study presented to the Radiological Society of North America (RSNA).
The new study aims to identify what the possible consequences are for the unborn child if the mother is infected during pregnancy, and to study the likelihood of the virus being passed on to the foetus.
"Women infected with SARS-CoV-2 during pregnancy are concerned that the virus may affect the development of their unborn child, as is the case with some other viral infections," said Dr Sophia Stoecklein, senior author of the study.Advertisement
"So far, although there are a few reports of vertical transmission to the foetus, the exact risk and impact remain largely unclear," added Dr Stoecklein, from the department of radiology at Ludwig Maximilian University of Munich.
"The aim of our study was to fill this gap in knowledge regarding the impact of a maternal SARS-CoV-2 infection on foetal brain development," she added.
MRI scans were used to study 33 pregnant women who were infected with COVID-19 during their pregnancy, with the women roughly 28 weeks into the pregnancies at the time of the scan.
The scans were evaluated by radiologists with years of experience in foetal MRIs who found that the brain development in the assessed areas was age-appropriate in all of the children, with no findings indicating any infection affected the brains.
"In our study, there was no evidence that a maternal SARS-CoV-2 infection has any effect on the brain development of the unborn child," Dr Stoecklein said. "This fact should help to reassure affected parents."
But she cautioned that only mothers with mild to moderate symptoms who were not hospitalised were included in the study, meaning the impact of "severe infection on brain development in the foetus has not been conclusively determined".
COVID-19 around the world: Japan bans foreigners as other nations tighten restrictions on travellers
As cases of the new Omicron variant emerge across Europe, many countries are imposing travel bans or increasing quarantine requirements.
Japan will close to all foreign travellers from Tuesday, in a bid to slow the spread of the new Omicron variant of COVID-19.
It means the country will restore border controls it had only eased earlier this month for short-term business visitors, foreign students and workers.
First detected by researchers in southern Africa, much is still not known about B.1.1.529 but there are fears it could be more contagious than other variants – and more resistant to vaccines.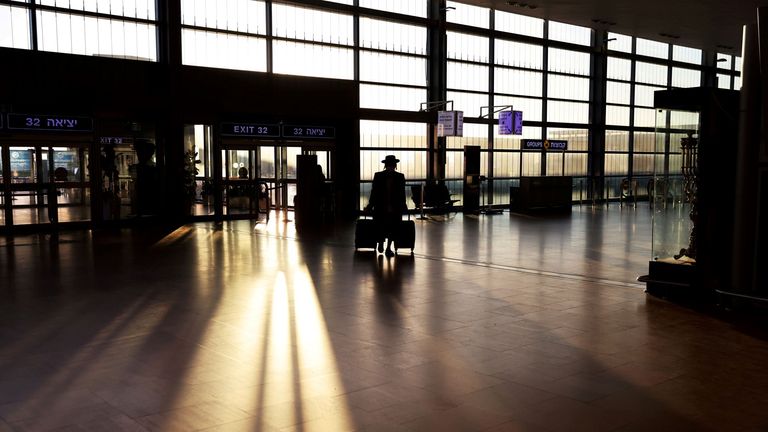 Global concern about the new strain is growing, with countries confirming cases for the first time and travel restrictions being imposed once again.Advertisement
Noting that the variant has already been detected in many countries and that closing borders often has limited effect, the World Health Organisation called for frontiers to remain open.
Here are the latest COVID-19 developments around the world.
Japan
The Japanese government has announced it will close its borders to all foreigners from Tuesday.
Prime Minister Fumio Kishida said: "We are responding to the Omicron variant with a strong sense of urgency."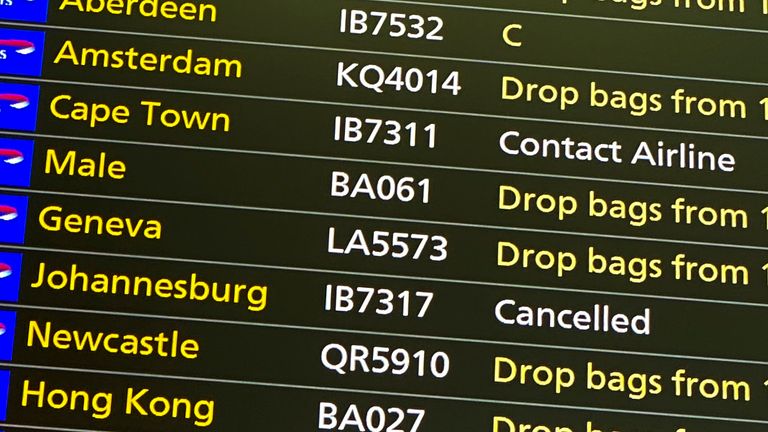 Over the weekend, Japan had tightened entry restrictions for people arriving from South Africa and eight other countries, requiring them to undergo a 10-day quarantine period.
Israel
On Saturday, Israel unveiled plans to ban all foreigners from entering the country, having already identified cases on home soil.
Prime Minister Naftali Bennett said the ban would last for 14 days, if the proposals are approved.
So far, Israel has one confirmed case of the Omicron variant and seven suspected cases.
Phone-tracking technology is going to be used to locate carriers of the new variant, in an attempt to stop it being transmitted to others.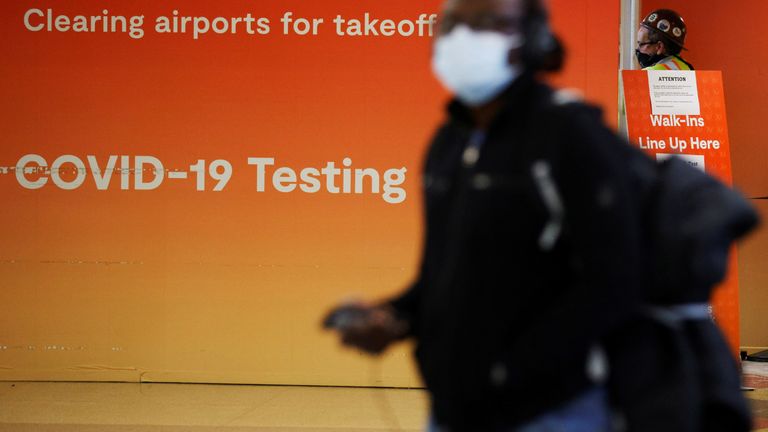 The US
From Monday, the US is going to restrict travel from South Africa and seven other countries in the region.
American citizens and permanent US residents – along with spouses and close friends – will be exempt.
No cases linked to Omicron have been detected in the country so far.
But Dr Anthony Fauci, America's top infectious disease specialist, told NBC that he wouldn't be surprised if the variant is already in the States, adding: "When you have a virus that is showing this degree of transmissibility… it almost invariably is ultimately going to go essentially all over."
In separate developments, New York Governor Kathy Hochul issued a COVID-19 "disaster emergency" declaration on Friday, with infections and hospitalisations increasing in the state.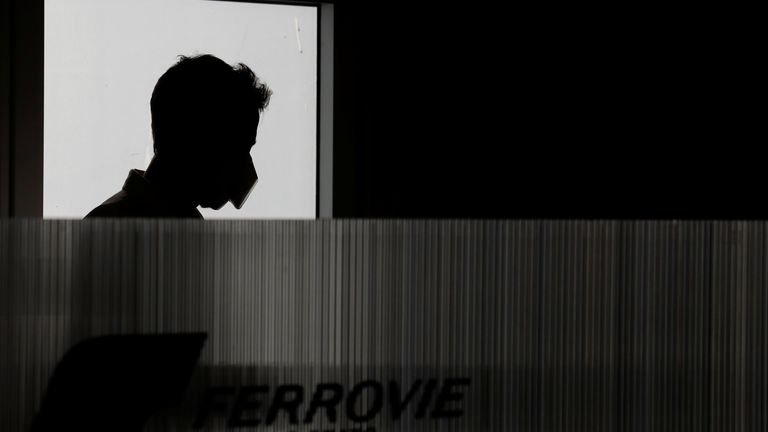 France
France's health ministry said on Sunday that it had detected eight possible cases of the Omicron variant, with the government saying it would tighten restrictions to contain its spread.
Canada
Canada has detected two cases of the Omicron variant in Ontario, authorities announced on Sunday.
Health officials Christine Elliott and Kieran Moore said in a joint statement that the cases were found in two people who had recently been in Nigeria.
Ontario has focused rapid COVID-19 testing on travellers who have been to South Africa, Botswana, Lesotho, Eswatini, Mozambique, Namibia and Zimbabwe.
Italy
On Saturday, health officials confirmed that a case of the Omicron variant had been detected in Italy.
The business traveller had flown from Mozambique, landing in Rome on 11 November and returning to his home in Naples.
Five of his family members, including two children, have also tested positive. All are now isolating and have light symptoms.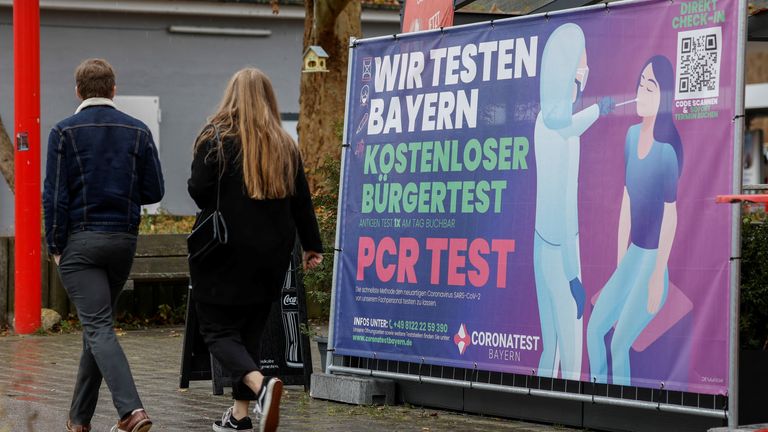 Germany
The Omicron variant has also been detected in three travellers who arrived on a flight from South Africa on 24 November.
Two cases were detected in the southern state of Bavaria, the other in Hesse in the west of the country.
Germany, like other parts of Europe, was suffering under a new wave of cases before Omicron was detected.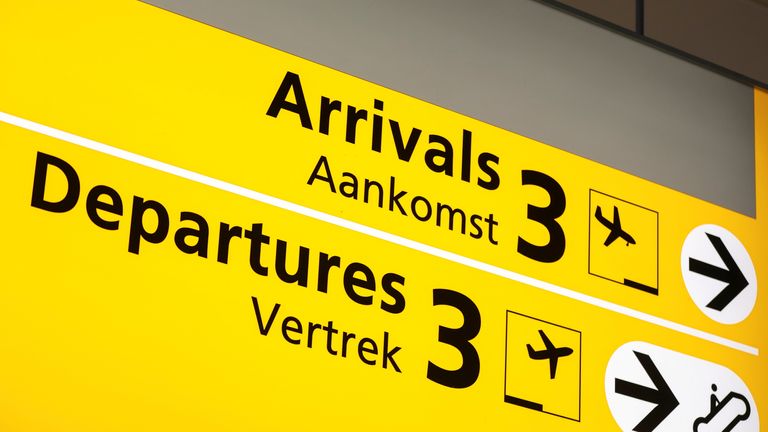 The Netherlands
Dutch health officials have detected 61 COVID-19 cases among people who flew from South Africa – 13 of which are confirmed to be Omicron.
The Dutch health minister said it was possible that there were more cases of the new COVID variant in the country.
The KLM airline expressed surprise at the high number of cases because all passengers had either tested negative or shown proof of vaccination before boarding flights from Cape Town and Johannesburg.
Authorities in the country are now attempting to contact 5,000 passengers who have travelled from South Africa, Botswana, Eswatini, Lesotho, Mozambique, Namibia or Zimbabwe since Monday.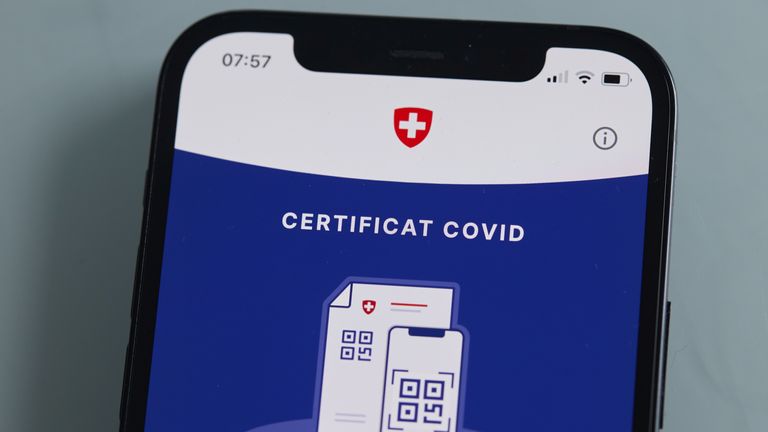 Switzerland
The first case of the variant has been discovered in Switzerland, the government announced late on Sunday as the country tightened its entry restrictions. The case relates to a person who returned from South Africa around a week ago.
Quarantine requirements have been widened to a greater number of travellers in an attempt to stem the spread of the Omicron variant.
Those arriving from 19 countries, including the UK, the Czech Republic, the Netherlands, Egypt and Malawi must prevent a negative COVID-19 test and isolate for 10 days on arrival.
Direct flights have already been banned from South Africa and the surrounding region.
Despite cases being detected in Italy and Germany, both neighbours of Switzerland, travel restrictions have not been imposed on any countries it shares borders with.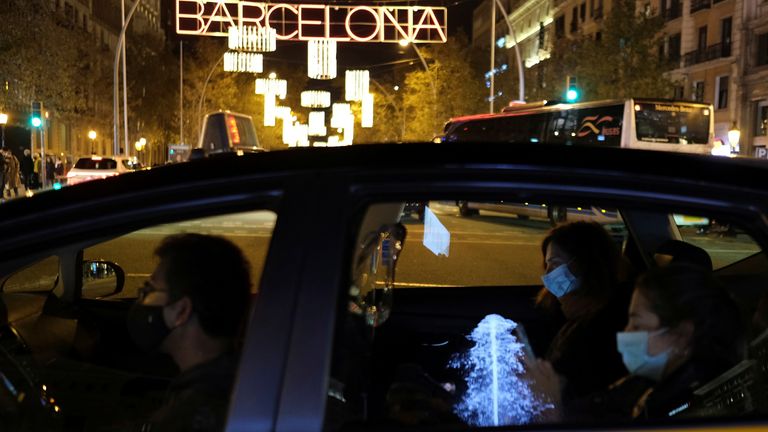 Spain
From next month, British tourists will only be able to enter Spain if they can show proof of a COVID-19 vaccination.
Until now, unvaccinated travellers were allowed into the country if they could present a negative PCR test that was taken 72 hours before their arrival.
"The appearance of new variants causing (coronavirus) obliges an increase in restrictions," the government said.
Spain's Industry, Trade and Tourism department said approximately 300,000 British people who are resident in Spain will not be affected by the new measures.
Indonesia
All travellers arriving in the country will need to quarantine for at least seven days – with those arriving from southern Africa and Hong Kong having to self isolate for 14 days.
Indonesia is due to take over the presidency of the G20 on 1 December, and has said that delegates attending will not be affected by the restrictions.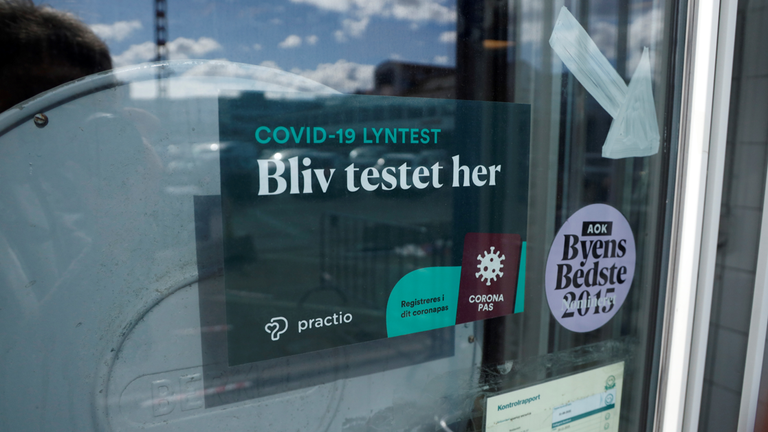 Denmark
Two cases of Omicron have been identified in Denmark in two travellers who arrived from South Africa.
Henrik Ullum, director of the State Serum Institute, said: "This was to be expected, and our strategy is therefore to continue intensive monitoring of the infection in the country."
The pair have been put in isolation, and contacts are being traced.
Australia
Two cases of Omicron have also been found in Australia, in the state of New South Wales.
Again, the pair involved were on a flight from southern Africa, both had been vaccinated and were asymptomatic. They are now isolating, and 260 other people on the flight are also in isolation.
Anyone arriving in the state from southern African countries, and the Seychelles, have been told they must isolate for 14 days.
Still, the nation plans to press ahead with plans to reopen borders to skilled migrants and students from 1 December.
New Zealand
New Zealand has announced it is restricting travel from nine southern African countries.
Thailand
Tourist-dependent Thailand, which only recently began loosening its tight border restrictions to leisure travellers, has also announced a ban on visitors from eight African countries.
Morocco
The country's foreign ministry said it is suspending all incoming air travel from around the world from Monday for two weeks.
In a tweet, it said the move had been taken to "preserve the achievements realised by Morocco in the fight against the pandemic, and to protect the health of citizens".
Criminals with 'advanced forging capabilities' selling valid vaccine certificates on dark web
The gang is believed to have brought in at least €425,000 (£360,000) in revenues and may either have access to government systems or have compromised the national health authority's cryptographic keys.
Criminals with "advanced forging capabilities" are selling valid vaccine certificates on the dark web, according to new research, suggesting they may have compromised government systems.
Academics from Aalborg University's Cyber Security Group warn there are many scams among the dozens of listings for COVID-19 vaccine certificates on underground digital markets.
The ability for unvaccinated people to bypass various protections in place to prevent the spread of the coronavirus could endanger other people and potentially contribute to the development of a variant which is vaccine-resistant.
Despite the wide range of unverified listings which the researchers found and suspected of being scams, they said they managed "to discover a number of certificates which we are able to verify" according to the preprint of the study which has not yet been peer-reviewed.
This raised the risk that "malicious individuals [have] access to governmental systems, which they can manipulate at will" or that the cryptographic keys used by national health organisations to authenticate the certificates had leaked.Advertisement
The listing that provoked the most concern to the researchers was advertising certificates registered in 25 countries across the European Union, the samples from which they verified to be valid across Europe, using two different national COVID-19 apps
Single certificates are being sold for €250 (£210) with payments to be made in Bitcoin, although discounts available for bulk orders.
This particular vendor shop "is the only platform that elaborates on the operation of their service in such detail" and details the technical mechanisms used to check the QR code on the vaccine certificate.
"To provide proof that the generated certificates sold are valid, the homepage of the site also includes a sample QR code, of a fictional individual, which we validated using two national COVID-19 mobile applications," the researchers wrote.
A video uploaded by the gang also offered the researcher a short glimpse of their administration dashboard, which at the time showed they had made over 1,700 sales – amounting to more than €425,000 (£360,000) in revenue.
"The individuals behind this vendor shop present an advanced understanding of the system that surrounds the issuance and verification of certificates, which combined with the quality of their web page, the overall attention to detail in describing the operation of their business, and the verification use cases shown, raises the probability of the service being legitimate," the academics wrote.
"This fact however, leads to the question of how these sellers have managed to infiltrate the EU COVID-19 certificate systems in so many countries. Unfortunately, they do not disclose this information, since it would mean the end of their operation," they add.