Dana White reacts to Nicco Montano's latest fight cancellation: 'This might not be the sport for her'
After weighing seven pounds over the limit for her most recently scheduled fight, Nicco Montano was removed from UFC Vegas 33, which was the fifth time in a row she's been booked and yet unable to compete. While a disastrous weight cut stopped Montano from competing this past weekend, she's also suffered through injuries, a…
After weighing seven pounds over the limit for her most recently scheduled fight, Nicco Montano was removed from UFC Vegas 33, which was the fifth time in a row she's been booked and yet unable to compete.
While a disastrous weight cut stopped Montano from competing this past weekend, she's also suffered through injuries, a car accident, COVID-19 related cancellations as well as travel restrictions that prevented her from making it to a fight.
Of course, weight issues cost Montano her UFC flyweight title in 2017 after she was crowned as the first ever women's champion at 125 pounds only to be stripped of the belt 10 months later. When she was just hours away from stepping on the scale for a fight against Valentina Shevchenko at UFC 228, Montano ended up in the hospital following a particularly brutal weight cut, which in turn cost her the title.
Since then, Montano has only competed one time in a unanimous decision loss to Julianna Pena in 2019.
This latest issue with Montano coming in seven pounds over for a bantamweight fight has UFC president Dana White questioning if her future should be in mixed martial arts.
"I don't know off the top of my head but like over three or four of her fights have been cancelled," White told UFC Arabia. "I think that no matter what weight class you put her at, she seems to have a hard time making weight. This might not be the sport for her."
In a statement posted to her Instagram after her recent fight cancellation, Montano explained her process in the attempt to get down to the bantamweight limit before she eventually weighed 143 pounds.
"I have done this cut before but unfortunately it just didn't work out this time around," Montano wrote. "I think the most important thing for me to do is focus on getting my weight down healthily. Believe me, I didn't want this to happen and did everything in my power to make sure it didn't but sometimes life kicks you in the balls over and over and over. But I'm learning that it's only making me stronger and more resilient for what's to come."
Montano had actually been working out of the UFC Performance Institute in preparation for her previously scheduled fight but it's unclear if the team there was handling her weight cut. She had worked with the staff from the UFC Performance Institute in a past attempt to get down to flyweight, which was documented in a new film focused on Montano that's due out on Friday and was also featured on the HBO series "Real Sports."
White added that the UFC Performance Institute is definitely a tool for the fighters to use but it's still ultimately their responsibility to make weight and decide where they will compete.
"These guys are in control of their own lives, their own careers, do their thing," White said.
"They have the people there at the [UFC Performance Institute] to help them out if they don't have their own people. But at the end of the day, it's ultimately their decision. Look at Nicco and how many times it's happened. Once that starts to happen, we get involved and say you know what, this isn't working out."
Black Stars Head Coach CK Akonnor sacked
The Executive Council of the Ghana Football Association has taken a decision to terminate the appointment of Black Stars Coach Charles Akonnor and his two Assistants with immediate effect.
This follows the receipt of the Technical Report from the Head Coach of the Senior National Team and the report from the Black Stars Management Committee following Ghana's Group G World Cup qualifying matches against Ethiopia and South Africa.
The Executive Council after considering the two reports have decided to terminate its relationship with the Head Coach C. K Akonnor and the two Assistants.
The Executive Council has formed a three (3) Member Committee made up of Vice President Mark Addo, Upper East Regional Football Association Chairman, Alhaji Salifu Zida and Dr. Randy Abbey to find a Head Coach and Assistant Coaches for the Black Stars within the next 72 hours.
The Association wishes C.K Akonnor and his Assistants the very best in their future endeavours.
Ghana currently have three (3) points after the two opening matches.
The Black Stars will take on Zimbabwe in the next round of games in October 2021.
Andy Murray: Emma Raducanu win provides 'huge opportunity' for British tennis
Kent teenager Emma Raducanu took New York by storm, not dropping a set en route to victory as she became the first qualifier in history to claim a grand slam crown; fellow Briton Andy Murray was asked about the 18-year-old after his Rennes Open first-round victory over Yannick Maden
Andy Murray has hailed Emma Raducanu's "incredible" US Open win and spoken of a "huge opportunity" for British tennis.
Kent teenager Raducanu took New York by storm, not dropping a set en route to victory as she became the first qualifier in history to claim a grand slam crown.
Fellow Briton Murray was asked about the 18-year-old at a press conference on Monday after his Rennes Open first-round victory over Yannick Maden.
The three-time grand slam winner said: "It was incredible what she did there. I think for a lot of the people involved in British tennis, we knew she was extremely good.
"She hadn't competed much for the last sort of 18 months or so with school and coronavirus and those sorts of things, but I think at Wimbledon (where Raducanu reached the fourth round) everyone sort of got a bit of a glimpse of how good she could be.
"I've spent a little bit of time around her on the practice court, but more so in the same building, training close to each other, and watching what she's doing, and she's obviously really, really good.
"But what she did in New York was very special, a huge boost for British tennis and gives hopefully the governing bodies an opportunity to capitalise on that and get more and more kids involved in the sport.
"It's great what she did and a huge opportunity for British tennis now."
Antoine Griezmann: Atletico Madrid re-sign French forward on loan from Barcelona
Antoine Griezmann joined Barcelona from Atletico Madrid in £103m deal two years ago; forward returns to Atletico on a season-long loan; Sky Italy and Barcelona say Atletico have obligation to make deal permanent next summer, but Atletico say they instead have the option to extend the loan
Antoine Griezmann has completed his shock Deadline Day return to Atletico Madrid on loan from Barcelona.
Atletico and Barcelona said there was an option to extend the loan for a further season, with the Catalan club adding the Madrid side also had an obligation to make the deal permanent. Sky in Italy reports this permanent deal would cost £34.4m (€40m).
Atletico were able to move for the 30-year-old after sanctioning Saul Niguez's departure to Chelsea on an initial loan with an option to buy worth £33.4m (€38.9m) overall.
Diego Simeone was keen to sign a new striker and Griezmann will have no difficulty settling back at Atletico, having worked under the Argentine between 2014 and 2019.
Barcelona stated that Atletico have agreed to pay Griezmann's wages in full.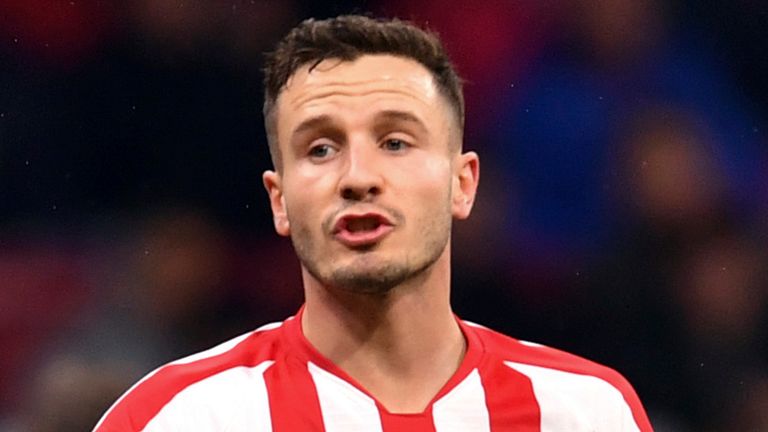 The 2018 World Cup-winner joined Barcelona from Atletico on a £103m deal two years ago and scored 35 goals in 102 appearances for the club.
However, he has only won the Copa del Rey during his time at the Nou Camp, and the Catalan giants have been trying to lighten their wage bill this summer due to debts amounting to £1.15billion, as confirmed by club president Joan Laporta earlier in August.
The club's reported financial struggles meant they were unable to offer Lionel Messi a new contract, prompting his shock exit to Paris Saint-Germain on a free transfer.
On Tuesday, the club announced stalwarts Sergio Busquets and Jordi Alba have accepted to take a pay cut in order to aid the club's Financial Fair Play parameters and ensure new signing Sergio Aguero could be formally registered with the Spanish Football League (LFP).
Earlier in the summer, Gerard Pique took a similar decision to allow Memphis Depay and Eric Garcia to be ratified as Barcelona players.
Griezmann originally left Atletico for Barcelona in 2019 at the end of a protracted transfer saga after his £103m (€120m) release clause was paid in full.
A year earlier, he featured in a documentary with Spanish TV station Movistar called "The Decision" which followed him as he opted to stay at Atletico despite interest from Barcelona.