Dota 2 Champions League 2021 Season 2 Playoffs Predictions
Dota 2 Champions League 2021 Season 2 has finally concluded its group stage. The two weeks worth of matches between ten participants shed some light on the biggest winners and losers. Since all ten teams are still playing the playoffs, albeit, in different divisions, there's no better opportunity to reflect on these teams' performances. And…
Dota 2 Champions League 2021 Season 2 has finally concluded its group stage. The two weeks worth of matches between ten participants shed some light on the biggest winners and losers. Since all ten teams are still playing the playoffs, albeit, in different divisions, there's no better opportunity to reflect on these teams' performances.
And finally, since its EsportsDotNet, we have to set our predictions and throw the book at the Dota 2 odds on offer.
Hellbear Smashers vs Chicken Fighters
Marcus "Ace" Hoelgaard's brainchild, Hellbear Smashers, is considered one of the stronger candidates in the Dota 2 Champions League 2021 Season 2. With a convincing seven-win streak, they are definitely on the right path to secure at least a top-four finish.
Chicken Fighters, on the other hand, only qualified for the Division 1 Playoffs by the skin of their teeth. They lost their last group stage match against V-Gaming, an open-qualifier team. Both teams have bumped into each other before, and Hellbear Smashers took a clean sweep. Hence, it's no wonder why the odds are against Chicken Fighters at x2.57 odds versus Hellbear Smashers at x1.48 odds.
My prediction is a simple outright on the Smashers to go through.
Team Spirit vs PuckChamp
Looking at the second match-up, we have a highly-anticipated opponent up against PuckChamp. Team Spirit earned their spot in the upcoming International 10 (TI10), where they will be competing for millions of dollars.
Since Team Spirit is a VIP at the Dota 2 Champions League 2021 Season 2, they were given leverage to be a direct Playoffs seeds team. Needless to say, PuckChamp will have a rough time going against this powerhouse.
Nevertheless, PuckChamp has a good record of surpassing our expectations, ever since they were promoted to Upper Division league in the Dota Pro Circuit 2021 (DPC 2021). Unfortunately, the odds couldn't be worse for PuckChamp at x4.45 against Team Spirit at only x1.19 returns.
Expect a clean series here at 2:o in favor of Spirit.
Team Unique vs Nemiga Gaming
Finally, a more even match-up compared to the previous mentions. Team Unique and Nemiga Gaming held a convincing top seeds finish, sharing the second spot behind Hellbear Smashers. More specifically, Nemiga actually clutched the series versus Unique in a devastating 2-1 finish, which is vital to keep in mind.
Nevertheless, the defining factor differentiating Unique against Nemiga is that Unique is a fourth-place Upper Division team. Thus, a recent loss in their book isn't precisely credible enough to call them the weaker candidate in this match.
Team Unique maintains a promising x1.54 odds versus Nemiga Gaming at x2.41 returns. Once again, if there's one match to bet on the underdogs, it's most definitely this one, siding Nemiga Gaming to pull off the stunt again.
Another outright bet on Unique would suffice.
V-Gaming vs Tundra Esports
Lastly, V-Gaming has undoubtedly had the short end of the stick when they are matched against Tundra Esports of all opponents. Tundra Esports may not be a TI10 invitee, but it boasts a line-up of seasoned veteran players, such as Adrian "Fata" Trinks and Jingjun "Sneyking" Wu.
V-Gaming is an open qualifier winner, who did unexpectedly well to make it into the Division 1 Playoffs, that's for sure. Unfortunately, their loss is pretty much sealed before the match because of Tundra Esports' presence.
The odds on GG.BET show Tundra Esports has an x1.19 odds against V-Gaming at x4.45 odds. It's one-sided but not unexpected, considering the power gap between them. At x1.59 for Tundra to take the series 2:0, we end up with a total x5.39 return on a potential four-way accumulator bet slip.
🔥 The group stage is over!

The first 6 teams will meet again in the playoffs of the first division, where they will be joined by powerful Team Spirit and Tundra, and 7-10 places will fight in the second division.#D2CL #D2CLRed pic.twitter.com/SYOAweabiN

— EPICENTER (@epicentergg) August 2, 2021
Besides these Division 1 Playoffs at the Dota 2 Champions League 2021 Season 2, there's the lower-tier Division 2 Playoffs. This particular playoff does not have a date yet, so until then, enjoy the intense series about to unfold tomorrow.
Black Stars Head Coach CK Akonnor sacked
The Executive Council of the Ghana Football Association has taken a decision to terminate the appointment of Black Stars Coach Charles Akonnor and his two Assistants with immediate effect.
This follows the receipt of the Technical Report from the Head Coach of the Senior National Team and the report from the Black Stars Management Committee following Ghana's Group G World Cup qualifying matches against Ethiopia and South Africa.
The Executive Council after considering the two reports have decided to terminate its relationship with the Head Coach C. K Akonnor and the two Assistants.
The Executive Council has formed a three (3) Member Committee made up of Vice President Mark Addo, Upper East Regional Football Association Chairman, Alhaji Salifu Zida and Dr. Randy Abbey to find a Head Coach and Assistant Coaches for the Black Stars within the next 72 hours.
The Association wishes C.K Akonnor and his Assistants the very best in their future endeavours.
Ghana currently have three (3) points after the two opening matches.
The Black Stars will take on Zimbabwe in the next round of games in October 2021.
Andy Murray: Emma Raducanu win provides 'huge opportunity' for British tennis
Kent teenager Emma Raducanu took New York by storm, not dropping a set en route to victory as she became the first qualifier in history to claim a grand slam crown; fellow Briton Andy Murray was asked about the 18-year-old after his Rennes Open first-round victory over Yannick Maden
Andy Murray has hailed Emma Raducanu's "incredible" US Open win and spoken of a "huge opportunity" for British tennis.
Kent teenager Raducanu took New York by storm, not dropping a set en route to victory as she became the first qualifier in history to claim a grand slam crown.
Fellow Briton Murray was asked about the 18-year-old at a press conference on Monday after his Rennes Open first-round victory over Yannick Maden.
The three-time grand slam winner said: "It was incredible what she did there. I think for a lot of the people involved in British tennis, we knew she was extremely good.
"She hadn't competed much for the last sort of 18 months or so with school and coronavirus and those sorts of things, but I think at Wimbledon (where Raducanu reached the fourth round) everyone sort of got a bit of a glimpse of how good she could be.
"I've spent a little bit of time around her on the practice court, but more so in the same building, training close to each other, and watching what she's doing, and she's obviously really, really good.
"But what she did in New York was very special, a huge boost for British tennis and gives hopefully the governing bodies an opportunity to capitalise on that and get more and more kids involved in the sport.
"It's great what she did and a huge opportunity for British tennis now."
Antoine Griezmann: Atletico Madrid re-sign French forward on loan from Barcelona
Antoine Griezmann joined Barcelona from Atletico Madrid in £103m deal two years ago; forward returns to Atletico on a season-long loan; Sky Italy and Barcelona say Atletico have obligation to make deal permanent next summer, but Atletico say they instead have the option to extend the loan
Antoine Griezmann has completed his shock Deadline Day return to Atletico Madrid on loan from Barcelona.
Atletico and Barcelona said there was an option to extend the loan for a further season, with the Catalan club adding the Madrid side also had an obligation to make the deal permanent. Sky in Italy reports this permanent deal would cost £34.4m (€40m).
Atletico were able to move for the 30-year-old after sanctioning Saul Niguez's departure to Chelsea on an initial loan with an option to buy worth £33.4m (€38.9m) overall.
Diego Simeone was keen to sign a new striker and Griezmann will have no difficulty settling back at Atletico, having worked under the Argentine between 2014 and 2019.
Barcelona stated that Atletico have agreed to pay Griezmann's wages in full.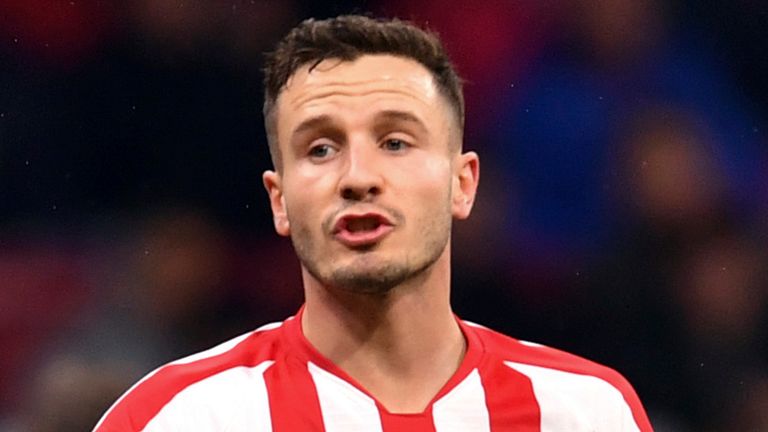 The 2018 World Cup-winner joined Barcelona from Atletico on a £103m deal two years ago and scored 35 goals in 102 appearances for the club.
However, he has only won the Copa del Rey during his time at the Nou Camp, and the Catalan giants have been trying to lighten their wage bill this summer due to debts amounting to £1.15billion, as confirmed by club president Joan Laporta earlier in August.
The club's reported financial struggles meant they were unable to offer Lionel Messi a new contract, prompting his shock exit to Paris Saint-Germain on a free transfer.
On Tuesday, the club announced stalwarts Sergio Busquets and Jordi Alba have accepted to take a pay cut in order to aid the club's Financial Fair Play parameters and ensure new signing Sergio Aguero could be formally registered with the Spanish Football League (LFP).
Earlier in the summer, Gerard Pique took a similar decision to allow Memphis Depay and Eric Garcia to be ratified as Barcelona players.
Griezmann originally left Atletico for Barcelona in 2019 at the end of a protracted transfer saga after his £103m (€120m) release clause was paid in full.
A year earlier, he featured in a documentary with Spanish TV station Movistar called "The Decision" which followed him as he opted to stay at Atletico despite interest from Barcelona.