Google's appeal against EU record £3.8bn fine starts today, as US cases threaten to break the company up
An appeal at the European Court of Justice precedes a range of actions currently ongoing in the US which could ultimately lead to the search giant being dismantled.
Three years after receiving a record fine from the European Commission alongside an order to stop abusing its control of the Android operating system, Google is set to have its day in court.
Back in 2018 the company was fined €4.34bn (£3.8bn) for forcing phone makers to pre-install apps including Google Search and Chrome to the exclusion of other search engines and web browsers.
The fine was a fraction of the €116bn (£99bn) parent company Alphabet recorded in revenues that year, but the real cost to the company was the threat to its future income if smartphones landed in consumers' hands without Google apps already installed.
Google's five-day appeal against the decision is being heard at European Court of Justice in Luxembourg, where the company hopes to have the Commission's decision annulled in its entirety.
A failure to do so could completely reshape the smartphone landscape, but other challenges targeting Google inside the US pose a far more significant risk to the company and could lead to the search giant being broken up into several smaller businesses.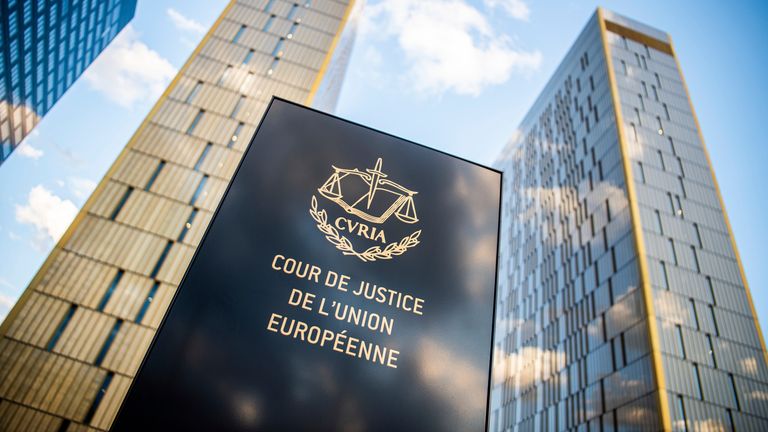 Breaking up monopolies
While there are an over-abundance of comparisons between the oil industry of the late 19th century and the tech industry of today, the slow movement of regulators is one of the most striking similarities.
It was in 1890 that US Congress passed a law to tackle the monopolies which had sprung up over the preceding half century, but it took more than three decades for that law to be used to break up Standard Oil, a company which by 1904 controlled more than 90% of oil production in America.
Standard Oil's business excelled due to its innovations in refining oil, but also because the company had rapaciously acquired rivals and used its commercial heft to strike deals with railroad companies (themselves a target for early antitrust action) at discounted rates which the remaining oil businesses could not compete with.
In a landmark ruling in 1911, the US Supreme Court upheld that Standard Oil was an illegal monopoly and ordered it to be broken up into 34 independent companies. Though that power is not available to the European Commission, there is a growing movement in the US calling for similar actions to be taken against tech giants whom some believe are guilty of the same anticompetitive practices.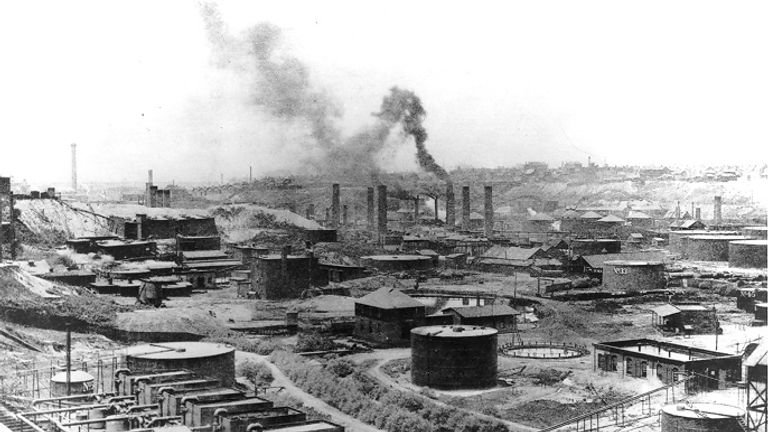 Modern antitrust law
Google is a very different company to Standard Oil, but the alleged unfairness of its practices – using its control of Android to force phone manufacturers who want to include the Google Play app store on their phones to also pre-install Google Search and Chrome – follows the same model of undermining rivals.
The investigation into Google coercing phone manufacturers formally began in 2015, although the Commission made its first enquiries about the company's practices in 2013 when an association of Google's rivals calling itself FairSearch lodged a complaint against its business practices.
The ruling came three years later in 2018 and now, three years later, Google's appeal has reached the European Court of Justice. Thomas Vinje, counsel to FairSearch and partner at law firm Clifford Chance, told Sky News he expected there could be another appeal after the hearing in Luxembourg.
"Antitrust enforcement is not, on its own at least, sufficiently robust, sufficiently effective, to be able to address these really extraordinary concerns. I'm not sure the world has ever faced a situation where there is such a concentration of power in such a central element of today's economy, and antitrust law is not up to the task," he said.
"That is largely because they're complex cases," Mr Vinje explained.
"They're more complex than rail roads or oil distribution – I'm not saying those are simple – but the issues faced in Big Tech today are a hell of a lot more complicated. So there is a hell of a lot more room for obfuscation… and dragging things out.
"So by virtue of the completely appropriate rights that defendants have in these cases, the cases just take too long."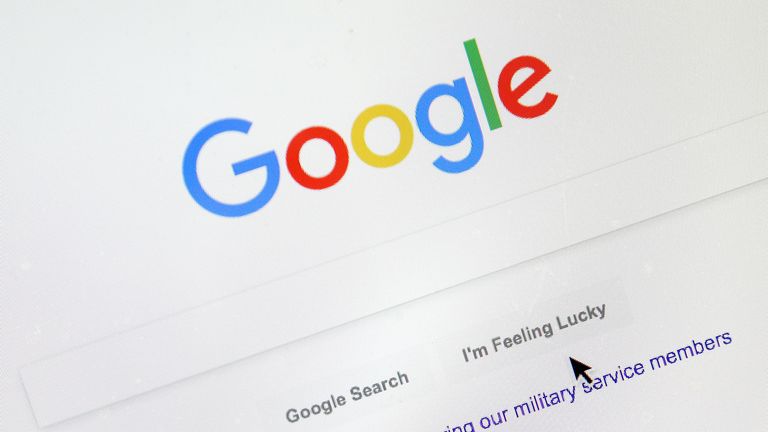 What is Google's response and appeal?
Google, which claims the most popular search term on rival search engines such as Bing is the word "Google" itself and which controls more than 90% of the market for web searches, disputes the Commission's arguments about its dominance, although that won't feature prominently in its arguments next week.
In a news briefing ahead of the hearing, the company explained to journalists that it believes a lot has changed in the years since the Commission issued its decision.
Key to Google's appeal is the argument that its control ensures Android is a platform which can run across millions of smart devices made by different manufacturers, increasing the economic benefits for developers – including rival web browser makers such as Opera, which is supporting Google's appeal – and ultimately consumers.
Google will note that a revenue sharing agreement it had with phone manufacturers and mobile network operators, cited as an illegal contractual restriction by the Commission, ended in 2014.
The company also strongly disputes the way that the Commission calculated the €4.34bn (£3.8bn) fine, something the Commission said was "calculated on the basis of the value of Google's revenue from search advertising services on Android devices" inside the European Economic Area.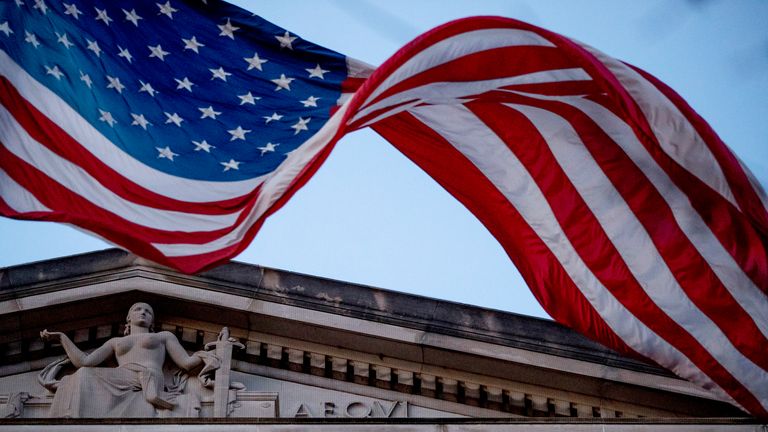 What is the threat in the US?
Even if Google succeeds in getting the Commission's decision annulled or amended, it faces three more challenges in the US which are backed by severe powers to tackle monopolies.
The first complaint was filed last October in a case led by the Trump administration's Department of Justice and joined by 11 states – though with apparent bipartisan support – charging Alphabet with "unlawfully maintaining monopolies in the markets for general search services".
It followed a congressional report which accused Amazon, Apple, Facebook and Google of monopolising the digital market and recommended antitrust laws be used to break them up.
Two more cases were brought against Google in December.
One from the attorneys general of 35 states accuses the company of anticompetitive practices in order to retain its dominance in search, while another filed by the attorneys general from 10 states focuses on the company's monopoly power in digital advertising markets.
Google has denied engaging in anticompetitive practices.
Facebook: Mark Zuckerberg says claims against company are attempt to 'paint a false picture'
His comments follow evidence from whistleblower Frances Haugen who told MPs that algorithms can be used that "take people who have mainstream interests and push them to extreme interests".
Facebook CEO Mark Zuckerberg has said recent claims against the social media giant are an attempt to "paint a false picture of our company".
Whistleblower Frances Haugen has told MPs that groups on the social media site can be "dangerous" because they use algorithms that "take people who have mainstream interests and push them to extreme interests".
She said groups can become "echo chambers" that reinforce people's opinions and gave the example that users with left-wing opinions can be pushed to the radical left, while those looking for healthy recipes can be pushed towards anorexia content.
Mr Zuckerberg's comments came after reports on the Facebook Papers, a vast cache of internal documents, and Ms Haugen's testimony to MPs and followed a 17% increase in the company's net income in the July-September period to $9.19bn, buoyed by strong advertising revenue.
In a post on his Facebook page, Mr Zuckerberg said: "I believe large organizations should be scrutinized and I'd much rather live in a society where they are than one where they can't be. Good faith criticism helps us get better.Advertisement
"But my view is that what we're seeing is a coordinated effort to selectively use leaked documents to paint a false picture of our company."
He added: "It makes a good soundbite to say that we don't solve these impossible tradeoffs because we're just focused on making money, but the reality is these questions are not primarily about our business, but about balancing difficult social values."
His comments were mostly a repeat of what he said after Ms Haugen appeared before a US Senate subcommittee on 5 October.
Ms Haugen, a former product manager in the company's civic integrity unit, told MPs on Monday: "One of the things that happens with groups and networks of groups is people see echo chambers that create social norms…" and that people with opposing views are "torn apart".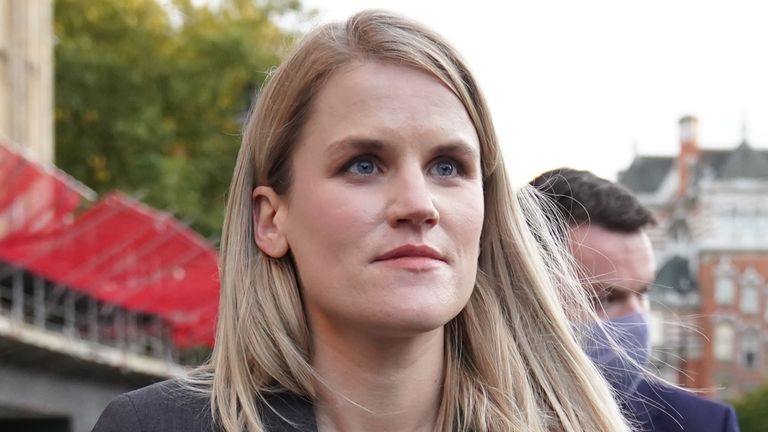 "When that context is around hate you see a normalisation of hate, a normalisation of dehumanising others, and that's what leads to violent incidents," she added.
She also told the committee that Facebook "unquestionably" makes online hate worse, sees safety as a "cost centre", and that "critical teams" are understaffed.
"If you make noise saying we need more help… you will not get rallied around for help because everyone is under water," she said.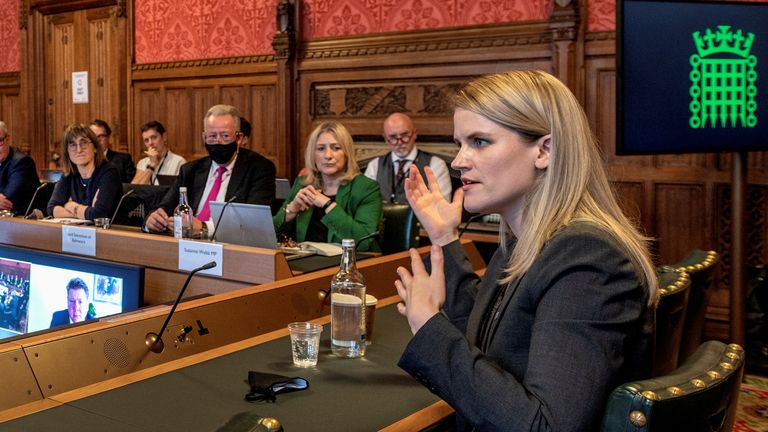 She said "engagement-based metrics" – which focus on how many people like, share or comment on a post – were a major problem on all social media sites.
She said they favoured polarised content and were "biased towards bad actors".
"The events we're seeing around the world, things like Myanmar and Ethiopia, those are the opening chapters because engagement-based ranking does two things: one, it prioritises and amplifies divisive and polarising extreme content and two it concentrates it," said Ms Haugen.
Tesla worth $1trn as investors cheer deal with Hertz which has ordered 100,000 electric vehicles
Following the announcement of the deal, Tesla's shares jumped by over 9.5% to top $995.75, making the company worth $1trn, according to Reuters.
Tesla's market capitalisation passed $1trn on Monday after its shares surged following a deal with car rental company Hertz which has ordered 100,000 new electric vehicles from the manufacturer.
It is the largest-ever order for the firm founded by Elon Musk.
Following the announcement of the deal, Tesla's shares jumped by over 9.5% to top $995.75, making the company worth $1trn (around £726bn), according to Reuters.
The agreement will see Hertz complete its purchases of the Tesla Model 3 cars by the end of 2022, while customers will be able to start renting Tesla's electric vehicles through Hertz starting from next month.
The deal is likely to be worth around $4bn (£2.9bn) because each Model 3 has a base price of about $40,000 (£29,000).Advertisement
It also ranks at the top of the list of electric vehicle orders by a single firm.
By becoming a $1trn company, Tesla joins an elite group of famous firms that have already passed the mark.
The only other publicly listed companies in the US that have reached a $1trn market capitalisation so far are Apple, Amazon, Microsoft, and Alphabet, the parent company of Google.
Hertz customers will be able to access Tesla's network of superchargers across the US and Europe – and the rental company has also pledged to install 3,000 chargers of its own by the end of next year.
"We absolutely believe that this is going to be competitive advantage for us," acting chief executive of Hertz, Mark Fields, said of the Tesla order.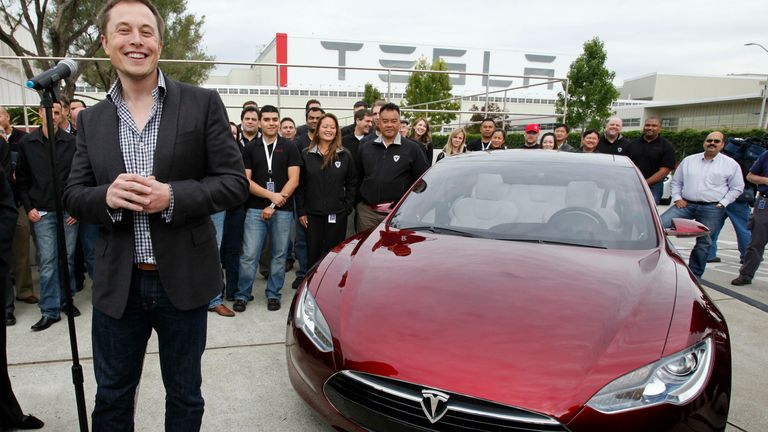 Speaking to Reuters, Mr Fields added: "We want to be a leader in mobility…Getting customers experience with electrified vehicles is an absolute priority for us."
Hertz currently has around 430,000 to 450,000 vehicles worldwide, and has said it will work with other companies producing electric vehicles – not just Tesla. Following the latest order, Mr Fields said that electric vehicles will make up more than 20% of its global fleet.
Mr Musk's company is currently struggling to fulfil a backlog of orders, and is suffering from supply chain issues – but experts say that the deal cements the mainstream status of electric vehicles.
Facebook under fresh pressure as whistleblower prepares to give evidence to MPs
The company has been plunged into a crisis since Frances Haugen released thousands of pages of internal research documents secretly copied before leaving her job in the firm's civic integrity unit.
A Facebook whistleblower whose claims have rocked the social media giant has launched a fresh attack on Mark Zuckerberg, accusing him of not being willing to protect public safety.
The latest broadside by former employee Frances Haugen comes as she prepares to give evidence to MPs at Westminster.
Her intervention ramps up the pressure on the embattled $1trn (£750bn) company, which has been plunged into a crisis since she released thousands of pages of internal research documents secretly copied before leaving her job in the firm's civic integrity unit.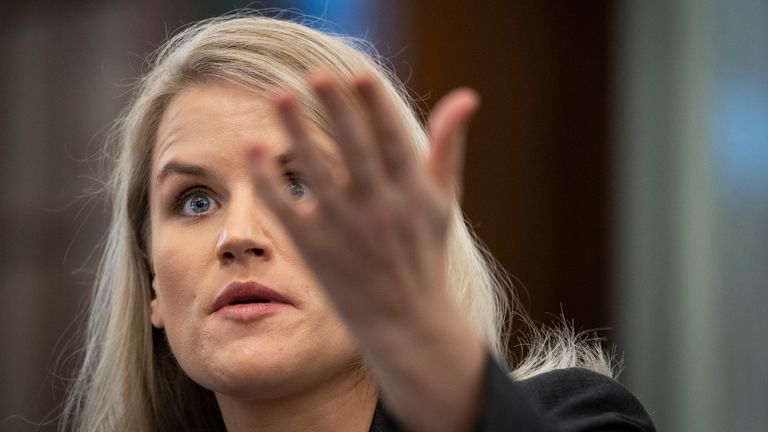 It comes amid newspaper reports that workers repeatedly warned Facebook was being flooded with misinformation claiming that the 2020 US presidential election result was being rigged.
Workers reportedly believed more should have been done to tackle it.Advertisement
It has fuelled renewed concerns about Facebook's role in the 6 January Capitol riots, in which a mob seeking to overturn the election result stormed Congress.
Separate leaked documents also reveal Facebook in India wavered in curbing hate speech and anti-Muslim content on its platform and lacked enough local language moderators to stop misinformation, which at times sparked violence.
Criticising Facebook CEO Mark Zuckerberg in a interview with The Observer newspaper, Ms Haugen said: "Right now, Mark is unaccountable.
"He has all the control.
"He has no oversight, and he has not demonstrated that he is willing to govern the company at the level that is necessary for public safety."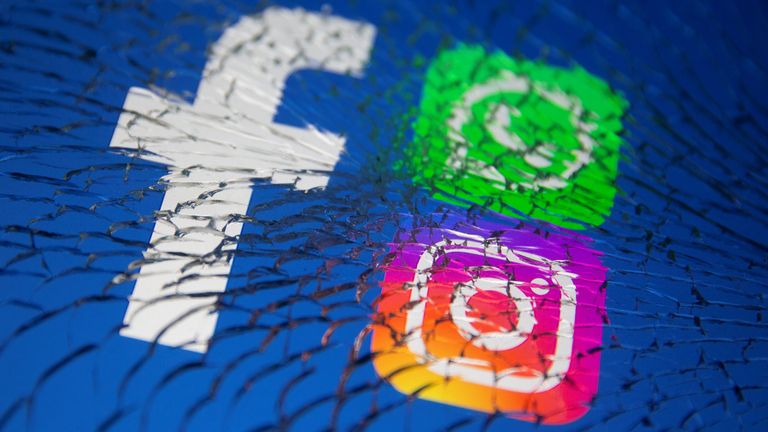 She said she had leaked the documents because she realised the company would not change otherwise.
Ms Haugen made her comments ahead of facing questions from a UK parliamentary committee scrutinising the draft Online Safety Bill, which aims to regulate tech firms and social media in a bid to curb cyber abuse and threats.
She has already levelled a series allegations against the social network, saying its platforms "harm children, stoke division and weaken our democracy", and that it refused to act because executives put profits above safety.
Ms Haugen has also accused the tech giant of being aware of the apparent harm Instagram could have on some teenagers and their body image, and said the firm had been dishonest in its public fight against hate content and misinformation by concealing research that showed it amplified such content.
Mr Zuckerberg has rejected the claims made by Ms Haugen, saying her attacks on the company were "misrepresenting" the work it does and that it "cares deeply about issues like safety, well-being and mental health".
He added: "At the heart of these accusations is this idea that we prioritise profit over safety and well-being. That's just not true."
Facebook is reportedly planning to rebrand its business name in an apparent bid to distance its wider business from the string of controversies that have engulfed it in recent years.
Among its latest big ideas is the so-called metaverse, a 3D online world the firm wants to lead the way on building, in which people can meet, play and work virtually, often using virtual reality headsets.