Jake Paul defeats Tyron Woodley via split decision to extend winning streak in his toughest fight yet
YouTuber-turned-boxer stays undefeated in his fourth fight but is unable to get the knockout for the first time; Jake Paul came through adversity when he took a big right hand from Tyron Woodley
Jake Paul showed his battling qualities to win a split decision after being dragged to the final bell by Tyron Woodley on Sunday night in Cleveland.
The YouTuber-turned-boxer faced real adversity for the first time since becoming a boxer, taking a solid right hand which rocked him against the ropes, but the referee did not score a knock-down against him.
His controversial crossover into boxing remains undefeated in a fourth fight despite not finding a knockout for the first time.
Paul had not previously been to the end of the second round in any of his previous fights but it was quickly evident that Woodley, a former UFC champion albeit making his boxing debut, would not go down as quickly.
Paul was forced to display more of his skills over a longer period for the first time, and he did land a counter left hook then an uppercut in an impressive third round.
Paul's only major concern came in the fourth when a right hand clubbed against the side of his head and staggered him, and it seemed he was only kept on his feet by the middle rope.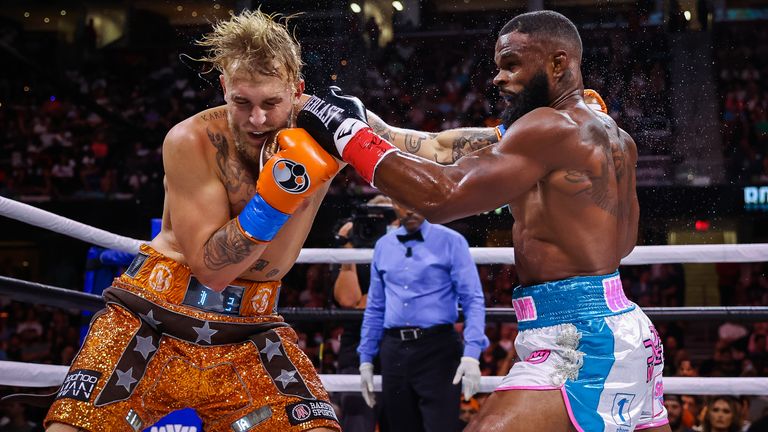 The referee, however, did not deem it a knock-down for Woodley.
Woodley went on the hunt for a stoppage but Paul bravely came through – it was the first round of his short career that had clearly gone against the YouTuber.
A tiring Paul came back in the sixth through sheer work-rate although his accuracy was not there.
He also struck Woodley with a right hand in the seventh, by which time both boxers were deeply fatigued.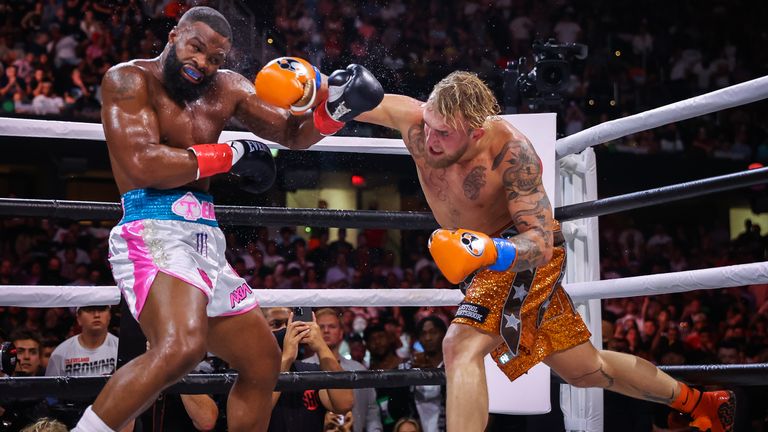 The judges scored the fight 77-75, 75-77, 78-74 to the social media sensation who was fighting in his home city. His mother was already celebrating his victory in the ring.
"He has been boxing, striking, for 20 years. I've been doing it for three years," said Paul on BT Sport Box Office.
"It was tougher than I expected. He is a tough opponent. He put up a good fight.
"He hit me with one real shot in the whole fight."
He could next fight Tommy Fury, who beat Anthony Taylor on the undercard.
'Get a tattoo and we will rematch!"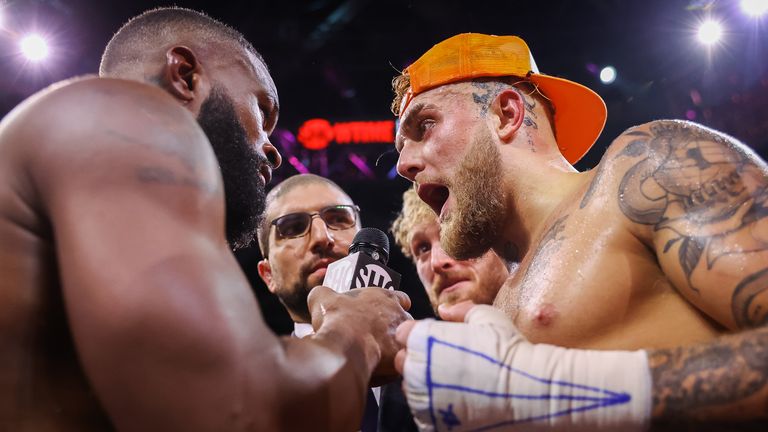 Paul and Woodley argued post-fight over a rematch that hinged on the loser getting a tattoo of the winner's name.
Woodley said on BT Sport Box Office: "Me and Jake need to run it back. I want a rematch. I felt like I won.
"I hit him and the ropes held him up. I landed more power shots."
Paul dared him: "If you get a tattoo 'I love Jake Paul' then we will run it back."
Woodley agreed: "You bet! Make the bet!"
Paul said: "Get the tattoo and we will run it back. I've got a tattoo artist here!"
He added later: "He needs to get a tattoo quickly or we will find another opponent. Put it on his Instagram. A permanent tattoo. Then we can talk about it."
How AC Milan missed out on Ghanaian youngster Felix Afena-Gyan
Afena Gyan scores brace for AS Roma against Genoa

Afena-Gyan makes Serie A record

Afena-Gyan valued at €20m
Ghanaian youngster Felix Afena-Gyan may be excelling for AS Roma but he could have ended up at rivals AC Milan.
The youngster has risen from the youth side of the Italian giants and taking a spot on the first team where he is in the process of establishing himself as a key cog in Jose Mourinho's side.
His two goals in AS Roma's victory over Genoa made him the first player born in 2003 to score in the Italian top flight league.
It has however emerged that Afena-Gyan was once on the books AC Milan and could have had his development in Milan instead of Rome.
Oliver Arthur, the Ghanaian football agent credited with the discovery of the 18-year-old has revealed that Afena-Gyan had trials with AC Milan who were interested in signing him.
Oliver Arthur says the choice of AS Roma as the club for Afena-Gyan was informed by his quest to get a place where the youngster's development was not going to be impeded.
"He initially had trials at AS Roma, then Sassuolo before going to AC Milan. Milan, just like the other clubs, was very much interested in him. But, we needed to make a decision and look at the best for the player and we settled on AS Roma," he said Kumasi-based Pure FM.
Oliver Arthur also spoken about how the youngster's stock has risen since he broke into the first team of AS Roma.
He disclosed that Afena-Gyan is now valued at €20million following his good display for AS Roma.
"It will really be difficult. Very difficult. Range? May be between €15m-€20m. For what he's done and the abilities he possesses, I think, yes, €20m" he told Angel TV
Africa to use VAR in World Cup play-offs after Ghana vs South Africa incident
Ghana defeats South Africa 1-0

South Africa petitions FIFA over penalty in Ghana game

Senegalese referee to be punished by FIFA, says South Africa coach
The Video Assistant Referee (VAR) will be used in the final phase of the 2022 World Cup qualifiers, Gianni Infantino, the President of the Federation of International Football Association (FIFA) has said.
Infantino has disclosed that FIFA and CAF will use the technology in the play-off to improve officiating in those matches.
Speaking at the extraordinary general assembly of the Confederation of African Football (CAF) in Cairo, Egypt Infantino said FIFA is making efforts to enhance the quality of matches and introduction of VAR is one of the measures.
"The final stage of the African World Cup qualifiers will see an improvement in refereeing performance due to the use of VAR," said Infantino.
The President of CAF, Patrice Motsepe who is a South African refused to comment on the specific case of Ghana versus South Africa but promised an investment in officiating.
"We are going to invest in the competitions because our competitions are everything," said Motsepe.
"That's why the announcement that we are making today regarding referees is critically important. Africa have got good referees, and we have got world-class referees. We've also got referees who are not so good.
"Then we've also got referees who are even further from not so good, but they all try. We want to train them, and also pay them good money and look after them. So that they can make a career out of being referees."
Ghana defeated South Africa 1-0 at the Cape Coast Stadium on November 14, 2021 via a controversial penalty.
Defender Daniel Amartey earned Ghana the penalty which was converted by skipper Andre Ayew on the 33rd minute.
South Africa took issues with the decision by referee Ndiaye and petitioned FIFA to probe what they perceive to be match manipulation.
According to SAFA, the referee was compromised and thus ruled the game in favour of the host team.
The Ghana Football Association has meanwhile disputed the claims and emphasized the Black Stars deserved victory.
It is expected FIFA will issue a verdict on the game in the coming days.
The draw for the play-off will be held in January next year after the Africa Cup of Nations.
The ten countries that have qualified include Ghana, Egypt, Algeria, Cameroon, the Democratic Republic of Congo, Ghana, Mali, Morocco, Nigeria, Senegal and Tunisia.
Forget about replay FIFA, will only ban referee Ndiaye Maguette – Hugo Broos
It appears that head coach of South Africa, Hugo Broos has given up hope of forcing a replay of the 2022 World Cup qualifier against Ghana from FIFA.
The Black Stars defeated the Bafana Bafana of South Africa by a lone goal to secure the only slot in group G for the play offs of the 2022 World Cup.
South Africa after the game accused the match official of match fixing, match manipulation among others before lodging an official complaint with FIFA.
Ghana had a penalty after Daniel Amartey went to ground in the penalty box following a challenge from Rushine De Reuck although it appeared soft there was a nudge in the back of the Leicester City defender.
The Senegalese referee Ndiaye Maguette who was standing just a few meters outside the penalty box swiftly awarded the penalty without any second thought.
FIFA urged the two Associations that is Ghana and South Africa to present any comments or evidence it deems appropriate latest by 20th November 2021 as they referred the protest to the FIFA Disciplinary Committee who began their work on 23rd November,2021.
FIFA is now due to issue a verdict on that appeal which has created friction between Ghana and South Africa in football circles.
Ahead of the verdict, South Africa's Belgian tactician doesn't seem confident.
"Fifa met on Tuesday," Broos told HLN Sportcast. "We expect a decision in the course of this week. It's not just about the penalty kick, it's about the whole game. The referee made 71 decisions, 47 of which were foul. The analysis has shown that. And 90 percent of those 47 wrong decisions were against us."
"You have to be able to prove something like that in black and white. Was he bribed? Wasn't he pressured? Or was he just having a really bad day? The numbers are there, but is that enough for FIFA? I personally think that it will remain with a suspension for the referee and that we should not count on a replay." he said.
The draw for the play offs will come off in January while the matches will be played in March 2022.