The Chairman of the Economic Community of West African States (ECOWAS), President Nana Addo Dankwa Akufo-Addo has reiterated calls for the election of members of the ECOWAS Parliament.
President Akufo-Addo is of the view that it will help strengthen democracy in the sub-region.
Currently, members of the ECOWAS Parliament are selected by their home Parliament to represent the country.
It has however been criticised for breeding corruption and favouritism among MPs.
Speaking at the opening of a high-level ECOWAS Parliamentary Seminar, on Wednesday, October 13, 2021, President Akufo-Addo added that the election of members to the august Parliament will also provide the needed autonomy and stability it needs.
He thus urged the House to consider his call.
"I want to reiterate further my earlier support for the call to elect members of the ECOWAS Parliament by universal adult suffrage. Achieving that feat will make an important milestone in the quest for strengthening democracy in the region and also enable Parliament to function with the needed autonomy, stability, and predictability."
ECOWAS Parliament Seminar
About 200 delegates from the 15 member states of the ECOWAS are currently in Winneba for the High-Level ECOWAS Parliament Interactive Summit and the 2021 Second Extraordinary Session of the sub-regional body.
The summit is expected to last for 10 days.
The event is themed: "Evaluating Two Decades Of Democratic Elections In The ECOWAS Region: Achievements, Challenges And The Way Forward".
Aside from President Nana Addo Dankwa Akufo-Addo, the Speaker of Ghana's Parliament, Mr Alban Sumana Kingsford Bagbin, Speaker of ECOWAS Parliament, His Excellency, Sidi Mohamed Tunis, among others are all expected to address the house.
Syria: 14 killed and at least three injured after explosion destroys bus in Damascus
A local TV station said two explosive devices went off as a bus was on the Hafez al Assad bridge and a third device has been defused by an army engineering unit.
At least 14 people have been killed after an explosion destroyed a bus in the Syrian capital of Damascus.
A local television station said two roadside explosive devices went off as the bus was on the Hafez al Assad bridge – and a third device has been defused by an army engineering unit.
At least three other people have been wounded, in what officials have called a "terrorist" blast, the TV channel reported.
Syrian state TV showed footage of the charred bus and said the blasts occurred during rush hour when people were heading to work and school.
In photos posted on the channel's Telegram account, rescue workers could be seen removing body parts from the cabin of the bus.Advertisement
No one has claimed responsibility for the attack, which occurred at a main bus transfer point, where vehicles converge and head out to different neighbourhoods of the capital.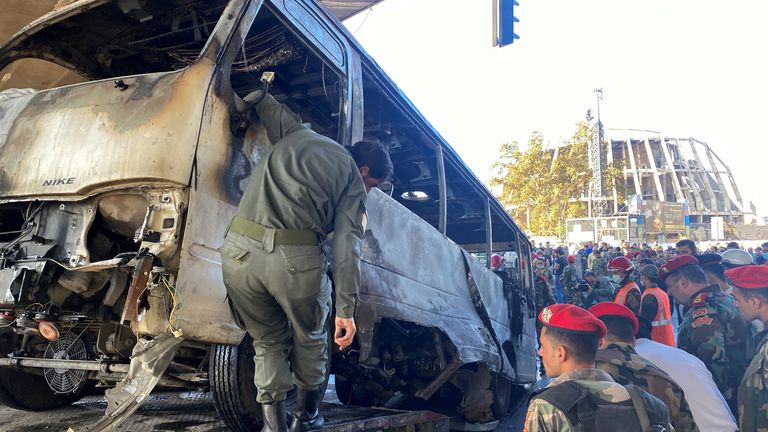 Damascus police commander Major General Hussein Jumaa told state TV: "It is a cowardly act" as he urged people to inform authorities about any suspicious object they see.
He added that a police force had cordoned off the area and made sure there were no more bombs.
Initially, 13 people were reported dead, but Maj Gen Jumaa said one of the wounded had died from his injuries.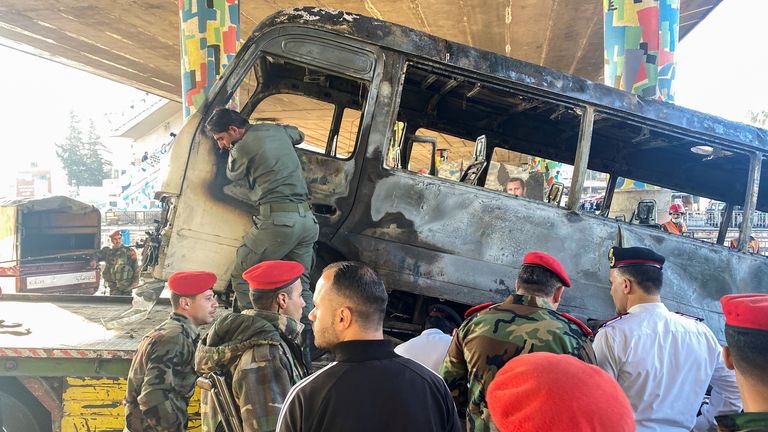 More than an hour after the blast occurred, workers cleared the scene of the explosion and the destroyed bus was removed.
The attack is the deadliest in Damascus in years, with such incidents being rare since government forces captured suburbs that were once held by insurgents.
President Bashar al Assad's forces now control much of the country after Russia and Iran helped him take back power.
Since the country's civil war began in March 2011, the United Nations says at least 350,000 people have been killed.
The war has also left more than half of the country's population displaced, including five million who are refugees abroad.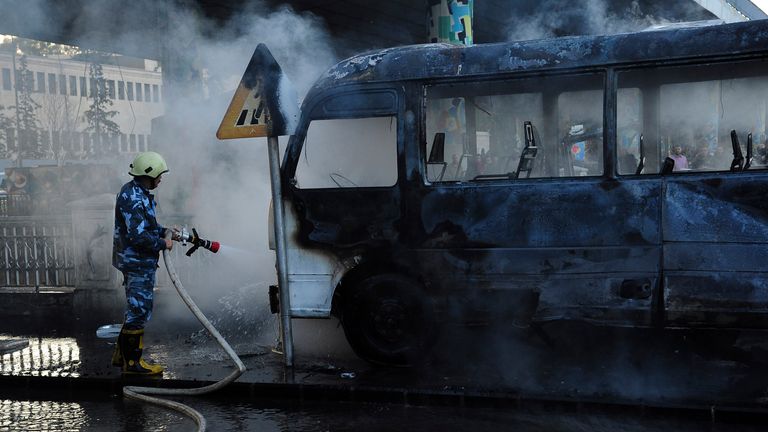 In August, Syria's state media said a short circuit triggered an explosion in the gas tank of a bus carrying soldiers, resulting in one being killed and three others being injured.
In 2017, an explosion hit a bus convoy carrying evacuees near the Syrian city of Aleppo.
At the time, the opposition rescue service claimed at least 100 people were killed.
Ethiopia: United Nations says three children killed in airstrike in capital of Tigray region
The Ethiopian government initially denied carrying out the deadly attack in Mekelle, but state media later confirmed the African country's air force was behind the airstrike.
At least three children were killed and one other person was injured during an airstrike in the capital of the Tigray region in Ethiopia on Monday, the United Nations has said.
A deadly conflict erupted between Tigrayan and Ethiopian government forces nearly a year ago and since November last year, thousands of people have been killed and more than two million citizens have been forced to flee the region.
Tigrai TV, which is controlled by regional ruling party the Tigray People's Liberation Front (TPLF), has now accused the Ethiopian government of launching airstrikes on the city of Mekelle on Monday.
Jens Laerke, spokesperson of the UN Office for the Coordination of Humanitarian Affairs (OCHA), has now reported local health workers saying three children died and another person was injured during the attack.
Mr Laerke told a briefing in Geneva earlier today: "This escalation of the conflict is very alarming."
Ethiopia's government spokesman, Legesse Tulu, denied launching any attack at first.
He said: "Why would the Ethiopian government attack its own city? Mekelle is an Ethiopian city.
"Terrorists are the ones who attack cities with innocent civilians in them, not government."
He then went on to accuse the TPLF of killing civilians in nearby regions.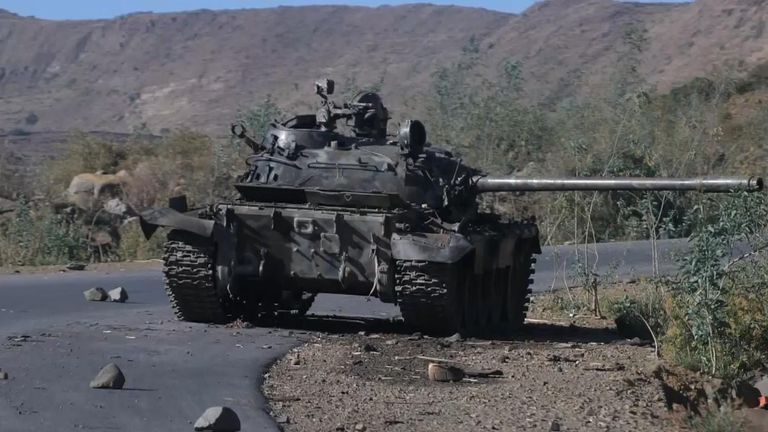 But the Ethiopian Press Agency, which is state-run, later said that the country's air force did carry out an airstrike, before adding the aim had been to hit communications buildings in the city.
Mr Tulu has not yet responded to the UN's report that three children were killed in the attack.
The conflict started after Prime Minister Abiy Ahmed, who was the winner of the 2019 Nobel Peace Prize, announced a military offensive to overthrow the TPLF.
He said this was a necessary response to TPLF attacks on military camps.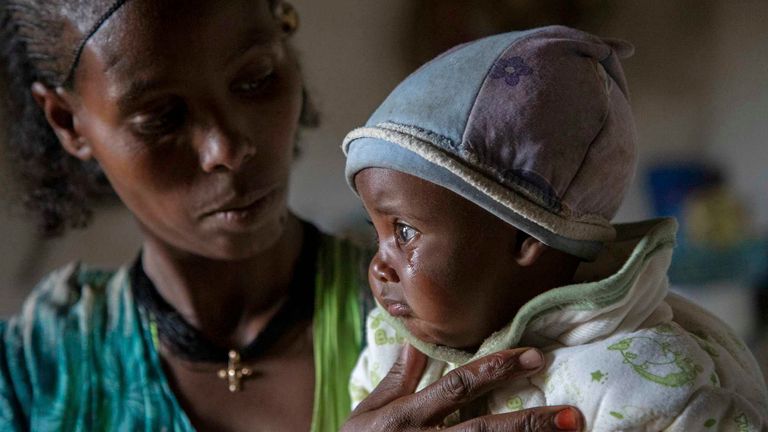 The UN also recently shared concerns about the conflict resulting in thousands of people facing starvation.
Humanitarian chief Martin Griffiths revealed last month that only 10% of needed humanitarian supplies have been reaching Tigray recently.
He said: "So people have been eating roots and flowers and plants instead of a normal steady meal.
"The lack of food will mean that people will start to die."
Chile: Protesters clash with police two years after landmark uprising – as election race hots up
Thousands congregated in the capital Santiago and other cities to mark two years since mass demonstrations that left 30 dead. The scenes come a month before an election for which Gabriel Boric is the favourite, supported by a leftist coalition, with Jose Antonio Kast also polling well.
Protesters have looted shops in Chile after demonstrations in cities across the country, which marked two years since social unrest and violence sparked the re-writing of the constitution.
Around 30 people died and thousands more were injured in the 2019 anti-government marches, with President Sebastian Pinera's administration criticised for its heavy-handed response.
The marches began on 18 October 2019 and continued through to December, causing the military to take to the streets for the first time since the rule of General Augusto Pinochet in the 1980s.
Led by students protesting over metro fare rises and sharp increases in the cost of living, they brought light to deep discontent about inequality within Chilean society.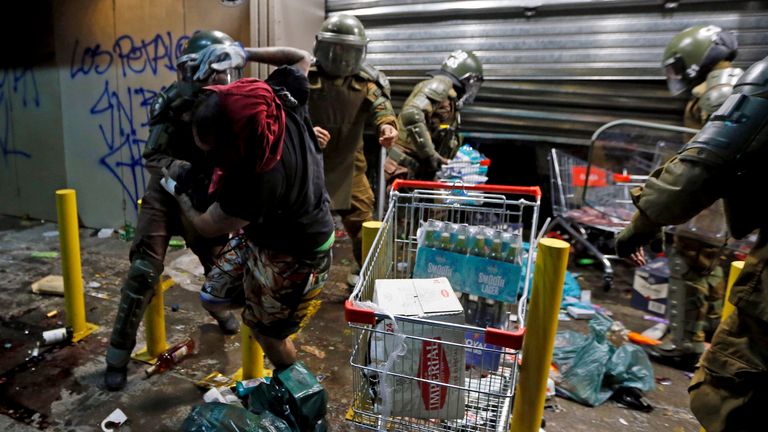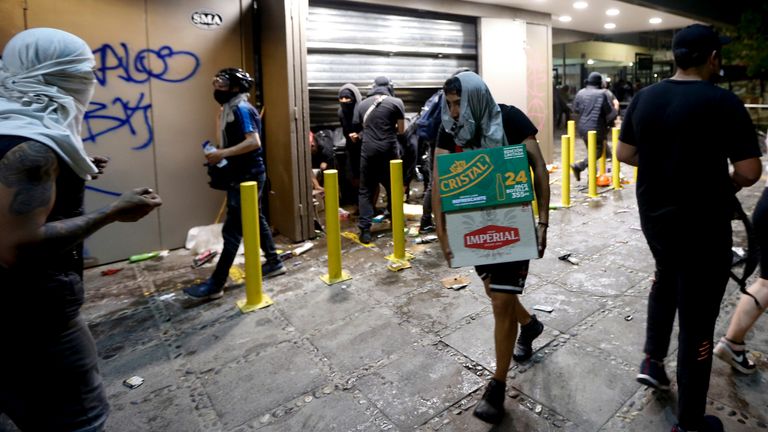 On Monday, thousands of demonstrators congregated in the capital Santiago, and other cities, to mark the anniversary and renew their calls for greater social justice.Advertisement
Protesters are demanding universal health care, free and improved schooling, and higher pensions.
Most events were peaceful, but some demonstrations turned violent, with looting reported, and a car set ablaze.
In Santiago, various marches converged from different parts of the city, causing massive traffic jams, while some protesters launched fireworks and lit bonfires, sparking some skirmishes with police.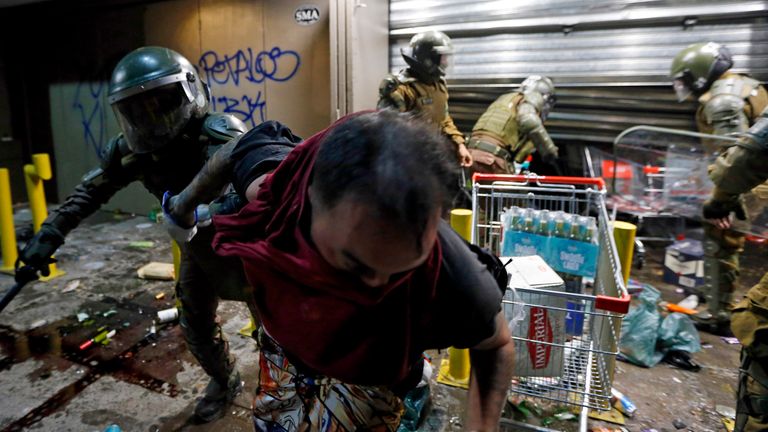 Pamela Figueroa, a political scientist at the University of Santiago, told Reuters: "This is a moment of commemoration regarding the country we must build.
"That social unrest is being channelled into building up our democracy."
Last year, similar anniversary protests also turned violent. A church was set on fire, and protesters threw rocks and fireballs at officers in riot gear.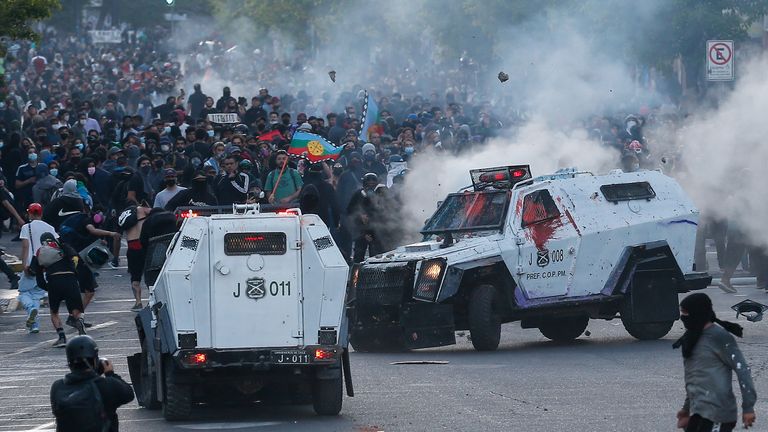 Chile is divided ahead of presidential and legislative elections on 21 November.
A resurgent left pledging social change is posing a challenge to conservatives. Lawmaker and former student leader Gabriel Boric is leading the presidential race in opinion polls, supported by a leftist coalition.
Far-right former lawmaker Jose Antonio Kast has gained as well, with one poll showing him ahead.
The new president will assume office in March.