Netflix staff join protests outside its headquarters over controversial stand-up show by Dave Chappelle
Chappelle has been accused of making anti-transgender comments in a special show which is on Netflix.
Staff at Netflix's headquarters in Hollywood have staged a walkout in protest at the release of a controversial special by the stand-up comedian Dave Chappelle.
Chappelle, one of the biggest names in American comedy, has been accused of making anti-transgender comments in the hour-long special The Closer.
But Netflix has refused to remove the special from its streaming service despite a backlash from the transgender community, both within the company and outside.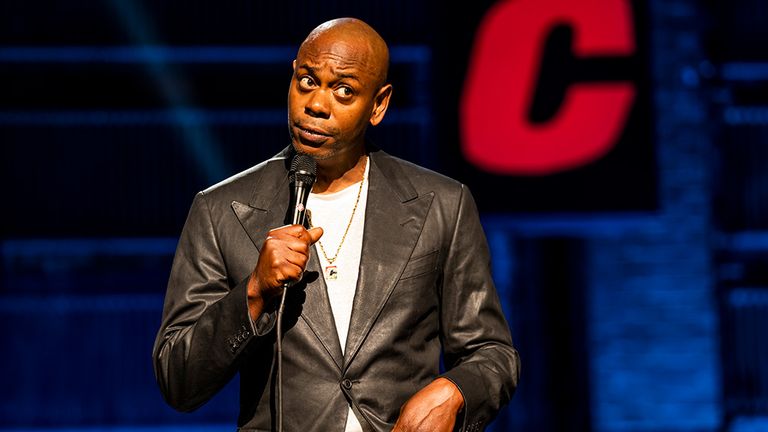 Employees joined the planned walkout to take part in a rally outside one of the company main campuses in Hollywood.
There were also scuffles as counter-protesters – carrying signs reading "We like Dave" and "Jokes are funny" – tried to disrupt the rally.Advertisement
To background chants of "Trans Lives Matter", campaigners pushed for Netflix to respond to a list of "asks" including the hiring of more trans executives and greater spending on trans and non-binary content.
Protest organiser Ashlee Marie Preston told the rally: "We're here to speak directly to Netflix. We tried to speak to Dave Chappelle but he was not having the conversation so we're communicating directly with the people who sign the cheques. We're not going away."
As well as criticism for streaming the special, Netflix has also come under fire for its handling of the backlash.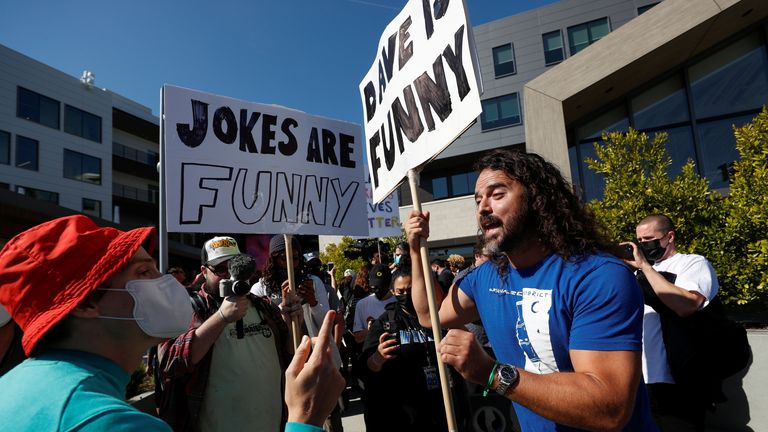 Chief executive Ted Sarandos has walked back his claim that content didn't "directly translate to real-world harm".
He told Deadline: "I should have made sure to recognise that a group of employees was hurting very badly from the decision made. I respect them deeply and I love the contribution they have at Netflix."
But he continues to stand by the decision to stream the special, telling the Hollywood Reporter: "We tell our employees that some of the content on Netflix you're not going to like.
"This kind of commitment to artistic expression and free artistic expression is sometimes in conflict with people feeling protected and safe. I do think that's something we struggle with all the time."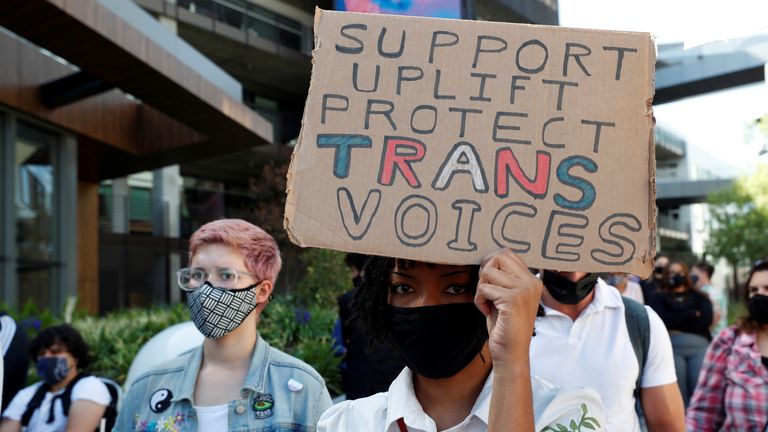 A number of Netflix stars have expressed their support for the walkout.
Elliot Page, who starred in The Umbrella Academy and is transgender, tweeted: "I stand with trans, nonbinary, and BIPOC (Black, Indigenous and People of Colour) employees at Netflix fighting for more and better trans stories and a more inclusive workplace."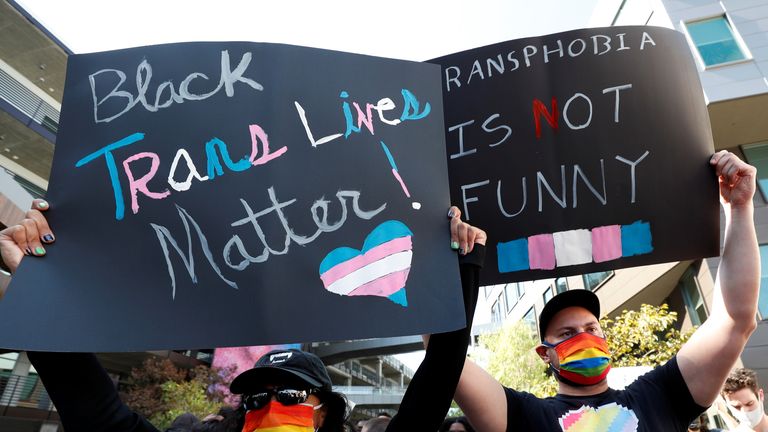 As the walkout was taking place, Chappelle himself was on stage in London.
Fans at the venue told Sky News that they believed entertainers needed to be conscious of how their words affected people.
"We as a society shouldn't be marginalising or prejudicing any community," said one.
But another added: "A joke's a joke. It's not meaning anything to hurt someone's feelings."
Our people are not serious, no wonder the movie industry isn't progressing – Yvonne Nelson laments
Yvonne Nelson reveals why Ghana's movie industry is not progressing

Yvonne Nelson tags some actors as 'unserious'

Yvonne Nelson announces next step of actions
Ghana's award-winning actress, Yvonne Nelson, has stated that some of her colleagues do not show dedication and commitment when called to star in a movie project.
According to Yvonne, the local movie industry is not progressing because her "peeps are just not serious."
The celebrated actress did not mince words when she called out persons who are collapsing the industry with their poor attitude towards work, this she lamented draws investors away.
Although she specifically did not name any 'unserious' actor, Yvonne, who doubles as a movie producer, was upset judging from her rants on her Twitter platform.
Yvonne Nelson has revealed that she has had enough from her people, adding that she will no longer tolerate any unprofessional behaviour when it comes to working with a crew.
"Honestly! I'm tired! Our people aren't serious! #shame #movieindustry #crew," the actress wrote in a post dated November 28, 2021.
Purification or not, the law would work again – Arnold to Shatta Wale
Entertainment journalist and nemesis of Shatta Wale, Arnold Asamoah-Baidoo, has sounded a word of caution to the Dancehall artiste. According to him, bathing in the sea would not make Shatta Wale immune to the law.
Arnold Asamoah shared his opinion on the supposed 'spiritual bath' that Shatta Wale, Medikal and the others took after being released from jail. Although Bulldog, acting as Shatta Wale's manager, disputed the spirituality part of the beach bath, Arnold had this to say;
"Well, I think everyone has their believes and convictions, especially when it comes to spiritual matters. So what works for you is what you abide by. I don't have a problem with them going through that exercise because I am sure they have a certain belief that when they do those things, any bad luck from going to prison and all will be washed away. That's their belief. They have a strong conviction in that. And so I can't begrudge them for going through that process."
Conferring to Arnold, their actions should not be tagged with a sinister motive considering our roots as Africans.
"I don't know why people would think that that is idol worshipping. We grew up with tradition and culture. Plus, spirituality. So I don't see why anybody should have an issue with what they did."
Having said that, Arnold maintains that the spiritual bath would not be a protection from the law if Shatta goes up against it.
"However, I think it's also critical to mention that going through that process doesn't mean that if you breach the law, you won't be held responsible. So I have no problem with them going through that process once it gives them relief."
I live within my means, chill with the expectations – KiDi pleads
Afro-pop artiste, Dennis Dwamena, known in showbiz as KiDi, has pleaded with his fans to lessen their expectations of his celebrity status.

KiDi wrote on his Twitter page to draw the line between his celebrity status and regular lifestyle. He added that he has not amassed enough wealth yet, and until then, people should expect a simple lifestyle.

He said, "One day I'll be rich. But right now, I'm not. So don't be expecting some kind of rich and flashy lifestyle from me because I be star, I beg. I live within my means. Dead the expectations."

It seems the 'touch It' hitmaker may also be sending a word of caution to all social media users to stay away from unnecessary pressure from celebrities.
And for all to take note that "not all that glitters is gold". And as such, the youth should remain vigilant and focused at all times.

Kidi is an afro-pop singer and songwriter who has been making countless hit songs in the entertainment industry. His newest album, 'The Golden Boy' has made headlines with 'touch it' as one of his singles to debut Billboard charts globally.

We hope to see more exciting features and songs that will put Ghanaian music on the global map.

See his post below:

One day I'll be rich.
But right now I'm not so don't be expecting some kind of rich and flashy lifestyle from me because I be star, I beg.
I live within my means. Dead the expectations ????— KiDi (@KiDiMusic) October 26, 2021