R Kelly trial latest: Singer was recorded threatening and assaulting victim, prosecution claims
Kelly, 54, faces nine charges including sexual abuse, racketeering and bribery. The prosecution wants to submit recordings of what it says is the singer threatening and attacking victims as evidence.
R Kelly threatened to "f*** up" one of his victims before assaulting her, according to newly submitted court documents.
The prosecution in the sex-trafficking case against the 54-year-old singer – real name Robert Kelly – wants a recording of the incident to be admitted as evidence.
According to papers filed at a federal court in Brooklyn, New York, the incident happened in 2008.
On the tape, Kelly is said to be heard saying: "If you lie to me, I'm going to f*** you up."
In a second video, the I Believe I Can Fly singer is heard threatening a woman from Florida known as "Jane Doe" and accusing her of stealing his Rolex watch.
"You better not ever… take from me again or I will be in Florida and something will happen to you," he says, according to the documents. "You understand what I'm telling you?"
The filing states that prosecutors wanted Jane Doe to testify at Kelly's trial, but decided against it after the woman "started to have panic attacks and appeared to have an emotional breakdown" as she listened to the tapes.
Kelly has denied racketeering and other charges accusing him of sexually abusing women, girls and boys during the course of his 30-year-career.
On Tuesday, the judge in the case indicated she would allow the tapes to be used as evidence in a trial which started last month.
Kelly allegedly told his victims he had cameras and other recording devices "everywhere" in his Chicago studio and other locations.
He has also been accused of recording sexual encounters with other victims.
On Monday, the court heard from a witness that said she saw Kelly in a "sexual situation" with R&B singer Aaliyah around 1993 – when Aaliyah would have been around 13 or 14.
The witness – a former backing dancer for Kelly – added that he had sex with her when she was 15.
Previously, the jury heard that Kelly had acquired two fake IDs through an employee so he could marry Aaliyah after he started to have sex with her while she was underage and thought she was pregnant.
A marriage licence submitted as evidence falsely listed Aaliyah's age as 18 and Kelly's as 27.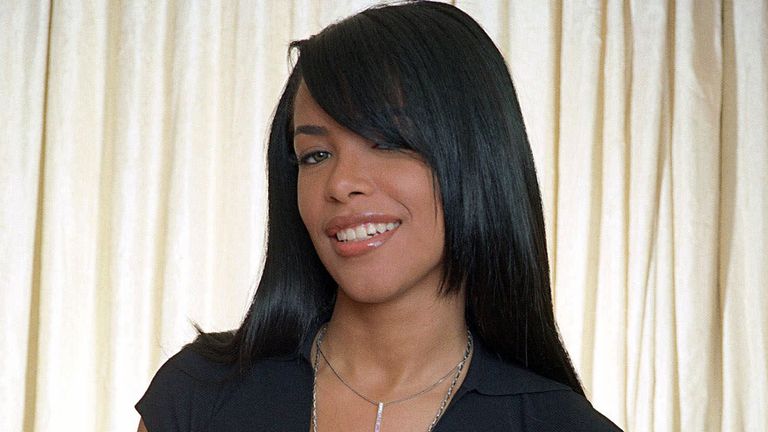 Image:R&B singer and actress Aaliyah pictured in 2001
Prosecutors have stated that Kelly wanted to use the later-annulled marriage to prevent Aaliyah testifying against him.
Kelly helped Aaliyah – full name Aaliyah Dana Haughton – write her 1994 debut album Age Ain't Nothing But A Number.
She later died aged 22 in 2001 in a plane crash.
Our people are not serious, no wonder the movie industry isn't progressing – Yvonne Nelson laments
Yvonne Nelson reveals why Ghana's movie industry is not progressing

Yvonne Nelson tags some actors as 'unserious'

Yvonne Nelson announces next step of actions
Ghana's award-winning actress, Yvonne Nelson, has stated that some of her colleagues do not show dedication and commitment when called to star in a movie project.
According to Yvonne, the local movie industry is not progressing because her "peeps are just not serious."
The celebrated actress did not mince words when she called out persons who are collapsing the industry with their poor attitude towards work, this she lamented draws investors away.
Although she specifically did not name any 'unserious' actor, Yvonne, who doubles as a movie producer, was upset judging from her rants on her Twitter platform.
Yvonne Nelson has revealed that she has had enough from her people, adding that she will no longer tolerate any unprofessional behaviour when it comes to working with a crew.
"Honestly! I'm tired! Our people aren't serious! #shame #movieindustry #crew," the actress wrote in a post dated November 28, 2021.
Purification or not, the law would work again – Arnold to Shatta Wale
Entertainment journalist and nemesis of Shatta Wale, Arnold Asamoah-Baidoo, has sounded a word of caution to the Dancehall artiste. According to him, bathing in the sea would not make Shatta Wale immune to the law.
Arnold Asamoah shared his opinion on the supposed 'spiritual bath' that Shatta Wale, Medikal and the others took after being released from jail. Although Bulldog, acting as Shatta Wale's manager, disputed the spirituality part of the beach bath, Arnold had this to say;
"Well, I think everyone has their believes and convictions, especially when it comes to spiritual matters. So what works for you is what you abide by. I don't have a problem with them going through that exercise because I am sure they have a certain belief that when they do those things, any bad luck from going to prison and all will be washed away. That's their belief. They have a strong conviction in that. And so I can't begrudge them for going through that process."
Conferring to Arnold, their actions should not be tagged with a sinister motive considering our roots as Africans.
"I don't know why people would think that that is idol worshipping. We grew up with tradition and culture. Plus, spirituality. So I don't see why anybody should have an issue with what they did."
Having said that, Arnold maintains that the spiritual bath would not be a protection from the law if Shatta goes up against it.
"However, I think it's also critical to mention that going through that process doesn't mean that if you breach the law, you won't be held responsible. So I have no problem with them going through that process once it gives them relief."
I live within my means, chill with the expectations – KiDi pleads
Afro-pop artiste, Dennis Dwamena, known in showbiz as KiDi, has pleaded with his fans to lessen their expectations of his celebrity status.

KiDi wrote on his Twitter page to draw the line between his celebrity status and regular lifestyle. He added that he has not amassed enough wealth yet, and until then, people should expect a simple lifestyle.

He said, "One day I'll be rich. But right now, I'm not. So don't be expecting some kind of rich and flashy lifestyle from me because I be star, I beg. I live within my means. Dead the expectations."

It seems the 'touch It' hitmaker may also be sending a word of caution to all social media users to stay away from unnecessary pressure from celebrities.
And for all to take note that "not all that glitters is gold". And as such, the youth should remain vigilant and focused at all times.

Kidi is an afro-pop singer and songwriter who has been making countless hit songs in the entertainment industry. His newest album, 'The Golden Boy' has made headlines with 'touch it' as one of his singles to debut Billboard charts globally.

We hope to see more exciting features and songs that will put Ghanaian music on the global map.

See his post below:

One day I'll be rich.
But right now I'm not so don't be expecting some kind of rich and flashy lifestyle from me because I be star, I beg.
I live within my means. Dead the expectations ????— KiDi (@KiDiMusic) October 26, 2021