Chelsea remain determined to sign Lukaku despite Inter having rejected a second offer of £85m for the Belgian, which would have also seen left-back Marcos Alonso move to the Serie A club; an offer of between £94m and £102m could convince Inter chairman Steven Zhang to sell.
Romelu Lukaku has told Inter Milan he would like them to accept a suitable offer for him from Chelsea.
Chelsea remain determined to re-sign the Belgium striker despite Inter having rejected a second offer of £85m for the 28-year-old, which would have also seen left-back Marcos Alonso move to the Serie A club, according to Sky in Italy.
The reigning European champions had already seen a first offer rebuffed by Inter and it is understood neither proposal had made the Italian club change their mind about selling Lukaku.
An offer of between £94m (€110m) and £102m (€120m) could convince Inter chairman Steven Zhang to sell.
Premier League rivals Manchester City had also registered their interest in signing Lukaku earlier this year, but no offer was made as Inter showed no intention of selling at the time.
Tuchel: Lukaku a fantastic player
Speaking after his side's pre-season friendly against Tottenham on Wednesday evening, Chelsea head coach Thomas Tuchel refused to directly address the transfer situation but described Lukaku as a "fantastic player".
"I will not talk about players who don't play in my squad," Tuchel said. "And Romelu Lukaku is a fantastic player but he's a player from Inter and it's with all the respect I will not talk about him in this situation.
Asked about Lukaku having expressed his desire to return to Stamford Bridge, Tuchel added: "Everybody wants to come (to Chelsea) hopefully. Not everybody unfortunately, but you can imagine that a lot of players want to come and join.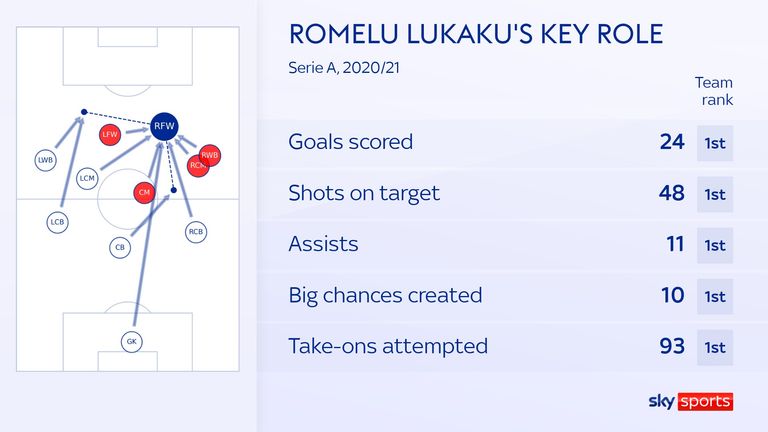 "The board is not offering players. That's not the way it works so far. We're talking with the board about players and if our opinions and the scouts conclude, then we target players who, in all our opinion, could make our squad stronger, which is quite a challenge to find.
"We don't only talk about talent but also attitude because we have a strong squad and there are some players of which we think they could be a good target and good add-ons and good improvement in our squad."
Lukaku played a key role in Inter's Serie A win last season, scoring 24 goals.
Inter need to reduce their wage bill this summer and title-winning boss Antonio Conte left the club in May amid concerns about plans to cut his budget.
Chelsea are determined to sign a world-class striker and their other main target this summer has been Borussia Dortmund's Erling Haaland.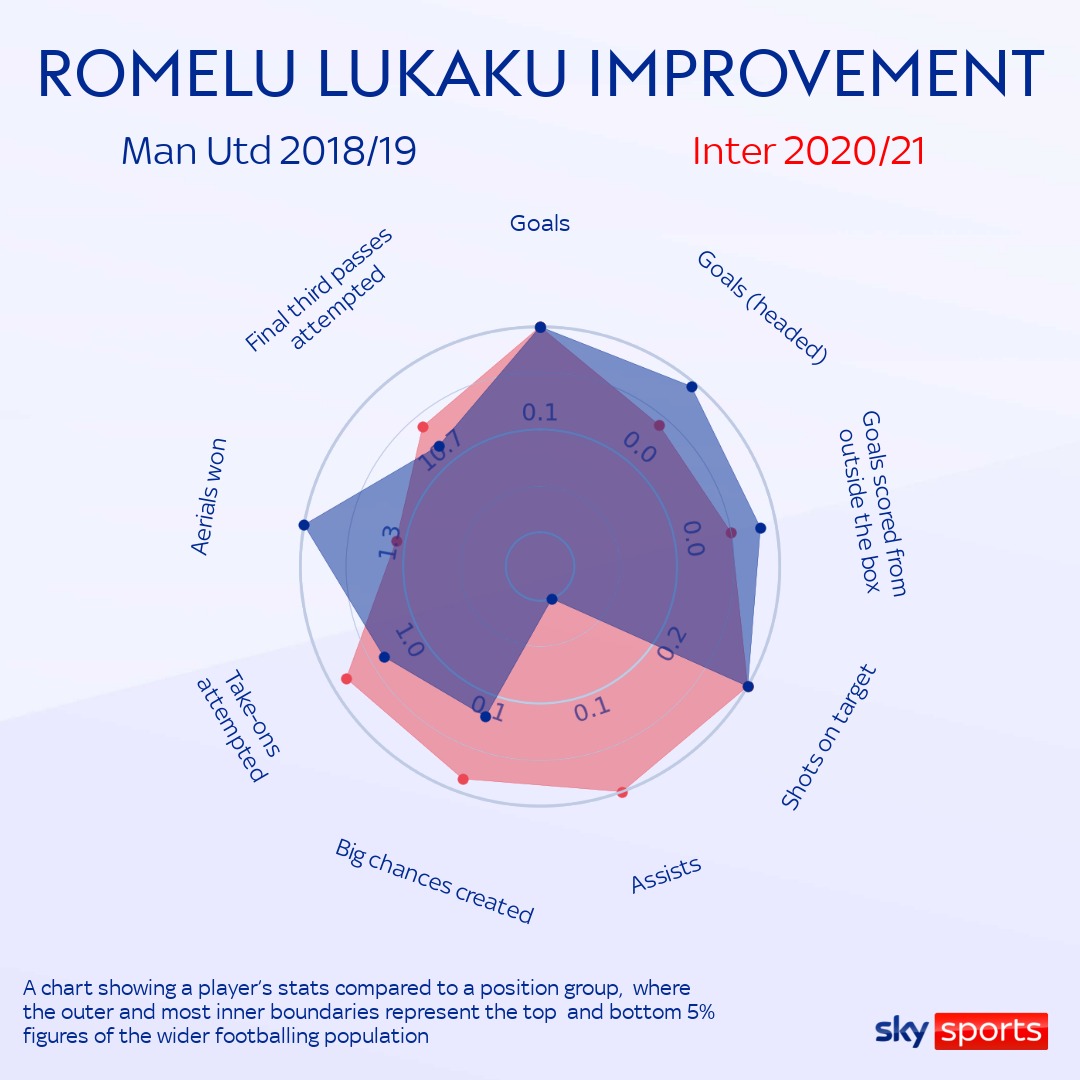 Lukaku previously spent three years at Chelsea after signing from Anderlecht as a teenager in 2011.
However, he made only 15 appearances for the club – failing to score a goal – before moving to Everton for £28m in July 2014.
He was close to a return in July 2017 but opted to join Manchester United for £75m. Inter signed him from United for £73m two years ago.
'Lukaku deal getting closer and closer'
"If you're a Chelsea supporter, you should now be thinking that this deal for Romelu Lukaku is getting closer and closer. What has happened today is that he's told Inter Milan that he would like them to accept a suitable offer from Chelsea for him.
"He's let it be known to Inter that he would like them to listen to what Chelsea have to say and if they can make them an offer that is acceptable and agreeable, then he would like to move to Chelsea.
"This is a crucial development today. We know that he's been happy at Inter and that he has a great relationship with people at the club and the fans but he's now made his stance known.
"If Chelsea were to offer 120m euros, I'm told it would be impossible for Inter to turn that down."
What does Lukaku deal mean for Haaland?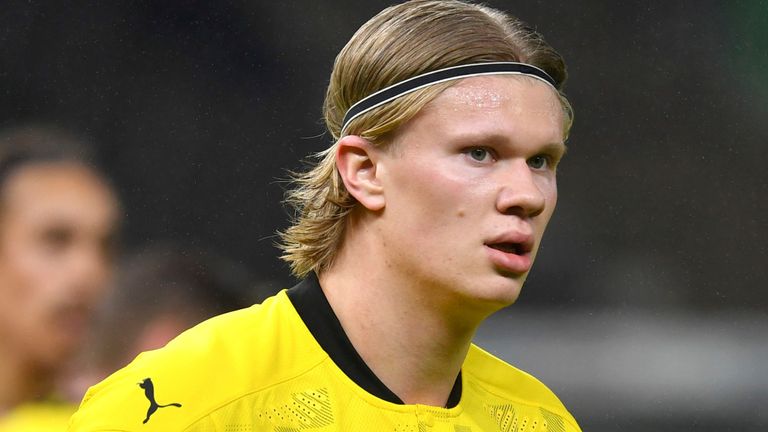 Sky Sports News reporter Dharmesh Sheth:
"It's a very good question as Chelsea were very interested in Haaland. Who knows, they could still be interested. Could you see a situation where they could try to break the bank by bringing in Haaland and Romelu Lukaku? That seems unlikely.
"This could drag on into next summer. Borussia Dortmund have said that there's no gentleman's agreement with Haaland as there was with Jadon Sancho. All of the noises coming out of Germany are saying that Dortmund won't sell both those players in the same transfer window.
"Haaland has a release clause that kicks in next summer. With Man City in for Harry Kane and Chelsea in for Lukaku, where does that leave those two clubs with regards to Haaland? Maybe they both feel they could pair those players with Haaland but next summer there will be more clubs who could afford him."
Follow the summer transfer window with Sky Sports
You can follow all the latest transfer news and rumours in our dedicated Transfer Centre blog on Sky Sports' digital platforms, as well as keeping track of all the developments on Sky Sports News.
New series: Football's Cult Heroes
Football's Cult Heroes is a brand new podcast series exploring the stories of the players that carried their clubs on their backs – on and off the pitch.
Told by the players, fans and journalists that were there – we delve into why these players created such a strong bond with their fans and how they are still remembered years on.
How AC Milan missed out on Ghanaian youngster Felix Afena-Gyan
Afena Gyan scores brace for AS Roma against Genoa

Afena-Gyan makes Serie A record

Afena-Gyan valued at €20m
Ghanaian youngster Felix Afena-Gyan may be excelling for AS Roma but he could have ended up at rivals AC Milan.
The youngster has risen from the youth side of the Italian giants and taking a spot on the first team where he is in the process of establishing himself as a key cog in Jose Mourinho's side.
His two goals in AS Roma's victory over Genoa made him the first player born in 2003 to score in the Italian top flight league.
It has however emerged that Afena-Gyan was once on the books AC Milan and could have had his development in Milan instead of Rome.
Oliver Arthur, the Ghanaian football agent credited with the discovery of the 18-year-old has revealed that Afena-Gyan had trials with AC Milan who were interested in signing him.
Oliver Arthur says the choice of AS Roma as the club for Afena-Gyan was informed by his quest to get a place where the youngster's development was not going to be impeded.
"He initially had trials at AS Roma, then Sassuolo before going to AC Milan. Milan, just like the other clubs, was very much interested in him. But, we needed to make a decision and look at the best for the player and we settled on AS Roma," he said Kumasi-based Pure FM.
Oliver Arthur also spoken about how the youngster's stock has risen since he broke into the first team of AS Roma.
He disclosed that Afena-Gyan is now valued at €20million following his good display for AS Roma.
"It will really be difficult. Very difficult. Range? May be between €15m-€20m. For what he's done and the abilities he possesses, I think, yes, €20m" he told Angel TV
Africa to use VAR in World Cup play-offs after Ghana vs South Africa incident
Ghana defeats South Africa 1-0

South Africa petitions FIFA over penalty in Ghana game

Senegalese referee to be punished by FIFA, says South Africa coach
The Video Assistant Referee (VAR) will be used in the final phase of the 2022 World Cup qualifiers, Gianni Infantino, the President of the Federation of International Football Association (FIFA) has said.
Infantino has disclosed that FIFA and CAF will use the technology in the play-off to improve officiating in those matches.
Speaking at the extraordinary general assembly of the Confederation of African Football (CAF) in Cairo, Egypt Infantino said FIFA is making efforts to enhance the quality of matches and introduction of VAR is one of the measures.
"The final stage of the African World Cup qualifiers will see an improvement in refereeing performance due to the use of VAR," said Infantino.
The President of CAF, Patrice Motsepe who is a South African refused to comment on the specific case of Ghana versus South Africa but promised an investment in officiating.
"We are going to invest in the competitions because our competitions are everything," said Motsepe.
"That's why the announcement that we are making today regarding referees is critically important. Africa have got good referees, and we have got world-class referees. We've also got referees who are not so good.
"Then we've also got referees who are even further from not so good, but they all try. We want to train them, and also pay them good money and look after them. So that they can make a career out of being referees."
Ghana defeated South Africa 1-0 at the Cape Coast Stadium on November 14, 2021 via a controversial penalty.
Defender Daniel Amartey earned Ghana the penalty which was converted by skipper Andre Ayew on the 33rd minute.
South Africa took issues with the decision by referee Ndiaye and petitioned FIFA to probe what they perceive to be match manipulation.
According to SAFA, the referee was compromised and thus ruled the game in favour of the host team.
The Ghana Football Association has meanwhile disputed the claims and emphasized the Black Stars deserved victory.
It is expected FIFA will issue a verdict on the game in the coming days.
The draw for the play-off will be held in January next year after the Africa Cup of Nations.
The ten countries that have qualified include Ghana, Egypt, Algeria, Cameroon, the Democratic Republic of Congo, Ghana, Mali, Morocco, Nigeria, Senegal and Tunisia.
Forget about replay FIFA, will only ban referee Ndiaye Maguette – Hugo Broos
It appears that head coach of South Africa, Hugo Broos has given up hope of forcing a replay of the 2022 World Cup qualifier against Ghana from FIFA.
The Black Stars defeated the Bafana Bafana of South Africa by a lone goal to secure the only slot in group G for the play offs of the 2022 World Cup.
South Africa after the game accused the match official of match fixing, match manipulation among others before lodging an official complaint with FIFA.
Ghana had a penalty after Daniel Amartey went to ground in the penalty box following a challenge from Rushine De Reuck although it appeared soft there was a nudge in the back of the Leicester City defender.
The Senegalese referee Ndiaye Maguette who was standing just a few meters outside the penalty box swiftly awarded the penalty without any second thought.
FIFA urged the two Associations that is Ghana and South Africa to present any comments or evidence it deems appropriate latest by 20th November 2021 as they referred the protest to the FIFA Disciplinary Committee who began their work on 23rd November,2021.
FIFA is now due to issue a verdict on that appeal which has created friction between Ghana and South Africa in football circles.
Ahead of the verdict, South Africa's Belgian tactician doesn't seem confident.
"Fifa met on Tuesday," Broos told HLN Sportcast. "We expect a decision in the course of this week. It's not just about the penalty kick, it's about the whole game. The referee made 71 decisions, 47 of which were foul. The analysis has shown that. And 90 percent of those 47 wrong decisions were against us."
"You have to be able to prove something like that in black and white. Was he bribed? Wasn't he pressured? Or was he just having a really bad day? The numbers are there, but is that enough for FIFA? I personally think that it will remain with a suspension for the referee and that we should not count on a replay." he said.
The draw for the play offs will come off in January while the matches will be played in March 2022.