The crew are scheduled to blast into orbit inside a SpaceX Dragon Capsule, launched from a Falcon 9 rocket on Wednesday.
Image:(L-R) Chris Sembroski, Dr Sian Proctor, Jared Isaacman, Hayley Arcenaux. Pic: Inspiration4/John Kraus
SpaceX is set to launch a motley crew of amateur astronauts into space on Wednesday in the first ever all-civilian orbital mission.
The crew of four civilians includes a high-school dropout for a commander, a medical officer who survived cancer as a child, an artist and college professor, and a man who won his seat through a charity donation.
Here's who they are, what their background is, and how they got their seats on what is set to be one of the most significant space tourism flights of all time.
Commander and Benefactor: Jared Isaacman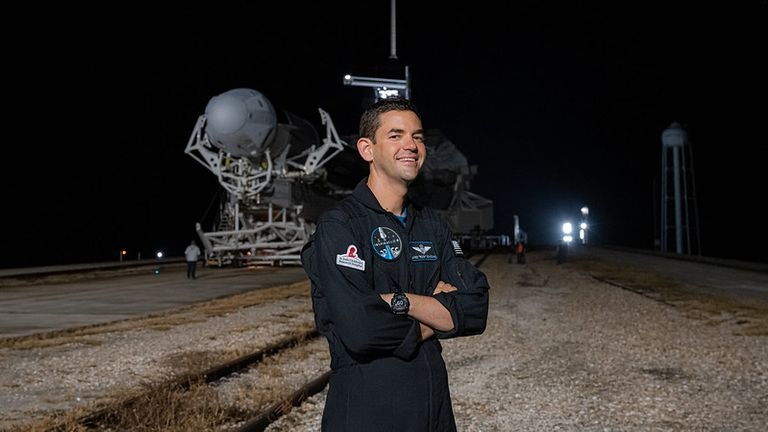 Jared Isaacman, 38, is the driving force behind this adventure, having struck a private deal with SpaceX.
The terms of that deal haven't been disclosed, but Mr Isaacman is using the trip to raise $200m (£146m) for St Jude Children's Research Hospital in Tennessee – with half coming from his own pockets – and said the anticipated donation to St Jude's "vastly exceeds the cost of the mission".
A high school drop-out, Mr Isaacman is the founder and chief executive of Shift4 Payments, a payment processing company which he started as a 16-year-old in 1999.
Reportedly a billionaire and a keen pilot, he set a speed record flying around the world in 2009 while raising money for the Make-A-Wish programme, and later established Draken International, the world's largest private fleet of fighter jets.
He said: "I truly want us to live in a world 50 or 100 years from now where people are jumping in their rockets like the Jetsons and there are families bouncing around on the moon with their kid in a spacesuit.
"I also think if we are going to live in that world, we better conquer childhood cancer along the way."
Chief medical officer and Hope seat: Hayley Arceneaux
When Hayley Arceneaux was just 10 years old, she was diagnosed with bone cancer. She received treatment at the St Jude Children's Research Hospital, including chemotherapy and a limb-saving surgery.
This surgery involved replacing her knee and placing a titanium rod in her left femur.
Now, as a healthy adult, Ms Arceneaux works at the hospital – which she credits with saving her life – as a physician assistant for patients with leukaemia and lymphoma.
She was selected for the mission by Mr Isaacman, who said he couldn't think of a better brand ambassador to represent St Jude and the spirit of hope on his mission.
"It's an incredible honour to be a part of this mission that is not only raising crucial funds for the lifesaving work of St. Jude, but also introducing new supporters to the cause and showing cancer survivors that anything is possible," she said.
Generosity seat: Chris Sembroski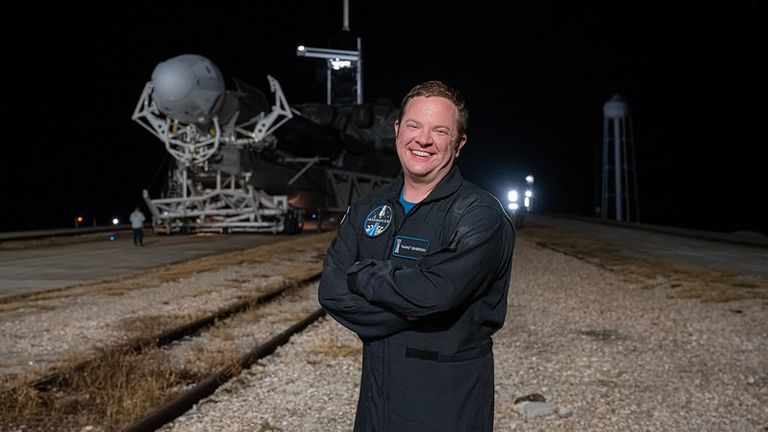 Chris Sembroski won his seat on the mission courtesy of a friend who donated to St Jude in July.
He's an employee of Lockheed Martin and a veteran of the US Air Force, where he helped maintain a fleet of the Minuteman III intercontinental ballistic missiles and deployed in Iraq.
He is described as having long held an interest in space exploration, and after leaving the Air Force studied professional aeronautics from Embry-Riddle Aeronautical University, where he met the unidentified friend who gave him his seat.
"Joining the Inspiration4 crew and its mission of support for St Jude is truly a dream come true. It is my hope that this flight will inspire others to pay that generosity forward by pledging their support for St Jude and encouraging kids to dream the impossible, ushering in a new era of space exploration open to all," he said.
Prosperity seat: Dr Sian Proctor
Dr Sian Proctor was previously a finalist for the 2009 astronaut programme at NASA, has a pilot license, and works as a professor of geoscience at South Mountain Community College in Phoenix, Arizona.
She was born in Guam to a father who worked for NASA at a tracking station there during the Apollo missions, and has conducted a series of simulated space missions at the Hawaii Space Exploration Analog and Simulation (HI-SEAS) Habitat.
She won her seat as a customer of Mr Isaacman's Shift4 Payments, as part of a plan to select someone "who utilises the new Shift4Shop eCommerce platform, which empowers entrepreneurs to build and grow successful eCommerce businesses online".
Dr Proctor has given a TEDx talk called Eat Like a Martian and previously published the Meals for Mars Cookbook, following her NASA-funded HI-SEAS mission on food strategies for long-term space travel.
As an artist, she tries to encourage conversations about creating a JEDI Space, or a space environment that is Just, Equitable, Diverse and Inclusive.
She said: "I am thrilled to part of the historic Inspiration4 crew and to represent the Prosperity seat. Going to space has always been a dream of mine, and being able to inspire the world through art and poetry makes it even more special for me."
Meta: UK competition regulator tells Facebook owner to sell GIF library Giphy
The investigation into the acquisition has been acrimonious, with Meta previously being fined £50m by the CMA for deliberately refusing to comply with the regulator's inquiries.
Facebook's owner Meta has been issued a legally binding order to sell the GIF library Giphy after an investigation found the takeover "could harm social media users and UK advertisers".
The Competition and Markets Authority (CMA) launched an in-depth investigation into the deal in April after raising a number of concerns. It subsequently warned of the potential forced sale in August.
Giphy – a website for making and sharing animated images, known as GIFs – was acquired by Facebook (now Meta) in May last year to integrate the GIFs with Instagram, but the CMA has now ordered the acquisition to be unravelled.
Sky News understands Facebook intends to appeal the CMA's decision. It has four weeks to do so and the appeal would go to a the Competition Appeal Tribunal, which is independent of the CMA.
Meta could potentially challenge that ruling in the UK courts, but only on points of law.Advertisement
Stuart McIntosh, who chaired the independent inquiry into the acquisition, said: "The tie-up between Facebook and Giphy has already removed a potential challenger in the display advertising market.
"Without action, it will also allow Facebook to increase its significant market power in social media even further, through controlling competitors' access to Giphy GIFs.
"By requiring Facebook to sell Giphy, we are protecting millions of social media users and promoting competition and innovation in digital advertising," Mr McIntosh explained.
The investigation into the acquisition has seen points of acrimony, with Meta being fined a record £50m by the CMA for deliberately refusing to comply with the regulator's inquiries.
Meta argued that it has been in compliance with the competition watchdog's primary orders at all times.
At the time of the fine, the company complained that the CMA delayed for seven months a request to amend these orders which was eventually agreed in what the company described as nearly an identical manner to what had been requested.
When Facebook first merged with Giphy it terminated the image library's advertising services, "removing an important source of potential competition" according to the CMA.
This was considered "particularly concerning given that Facebook controls nearly half of the £7 billion display advertising market in the UK".
However in Meta's response to the preliminary findings, the social media giant described the acquisition as a simple vertical merger and said that Giphy was financially troubled and suggested that its attempts to monetise its GIF library for display advertising were unsuccessful.
"If GIF paid alignments were the promising business model that the CMA believes they are, then one would expect to encounter them in the real-world at scale… Yet that is not the case," the response stated.
According to the regulator, the acquisition potentially also enabled the social media giant to change the terms of access to the GIF library for its competitors.
"For example, Facebook could require Giphy customers, such as TikTok, Twitter and Snapchat, to provide more user data in order to access Giphy GIFs.
"Such actions could increase Facebook's market power, which is already significant," the regulator said.
In its review of the merger, the CMA said it risked entrenching Meta's market dominance, noting that its platforms (Facebook, Instagram, and WhatsApp) already accounted for 73% of all user time spent on social media in the UK.
A spokesperson for Meta said: "We disagree with this decision. We are reviewing the decision and considering all options, including appeal. Both consumers and Giphy are better off with the support of our infrastructure, talent, and resources.
"Together, Meta and Giphy would enhance Giphy's product for the millions of people, businesses, developers and API partners in the UK and around the world who use Giphy every day, providing more choices for everyone."
COVID-19: Mild and moderate cases during pregnancy doesn't harm babies' brains, finds study
Parents should be reassured, there is "no evidence that a maternal SARS-CoV-2 infection has any effect on the brain development of the unborn child" say scientists.
Mild and moderate coronavirus infections in pregnant women appear to have no effect on the brain of the developing foetus according to a new study.
Two years into the COVID-19 pandemic "there is evidence that pregnant women are more vulnerable" to the coronavirus, according to a study presented to the Radiological Society of North America (RSNA).
The new study aims to identify what the possible consequences are for the unborn child if the mother is infected during pregnancy, and to study the likelihood of the virus being passed on to the foetus.
"Women infected with SARS-CoV-2 during pregnancy are concerned that the virus may affect the development of their unborn child, as is the case with some other viral infections," said Dr Sophia Stoecklein, senior author of the study.Advertisement
"So far, although there are a few reports of vertical transmission to the foetus, the exact risk and impact remain largely unclear," added Dr Stoecklein, from the department of radiology at Ludwig Maximilian University of Munich.
"The aim of our study was to fill this gap in knowledge regarding the impact of a maternal SARS-CoV-2 infection on foetal brain development," she added.
MRI scans were used to study 33 pregnant women who were infected with COVID-19 during their pregnancy, with the women roughly 28 weeks into the pregnancies at the time of the scan.
The scans were evaluated by radiologists with years of experience in foetal MRIs who found that the brain development in the assessed areas was age-appropriate in all of the children, with no findings indicating any infection affected the brains.
"In our study, there was no evidence that a maternal SARS-CoV-2 infection has any effect on the brain development of the unborn child," Dr Stoecklein said. "This fact should help to reassure affected parents."
But she cautioned that only mothers with mild to moderate symptoms who were not hospitalised were included in the study, meaning the impact of "severe infection on brain development in the foetus has not been conclusively determined".
Earth's water may have come from the Sun, new research finds
Researchers at the University of Glasgow say there is evidence that particles emitted by the Sun created water on the surface of dust grains on asteroids which hit Earth.
The origin of Earth's water continues to be debated by scientists – whether it was here when the planet formed or if it had an extraterrestrial source.
But new research points the finger at a previously uncounted point of origin: the Sun at the centre of our solar system.
According to astronomers, solar radiation may have created water on the surface of dust grains carried on asteroids that smashed in to our planet billions of years ago.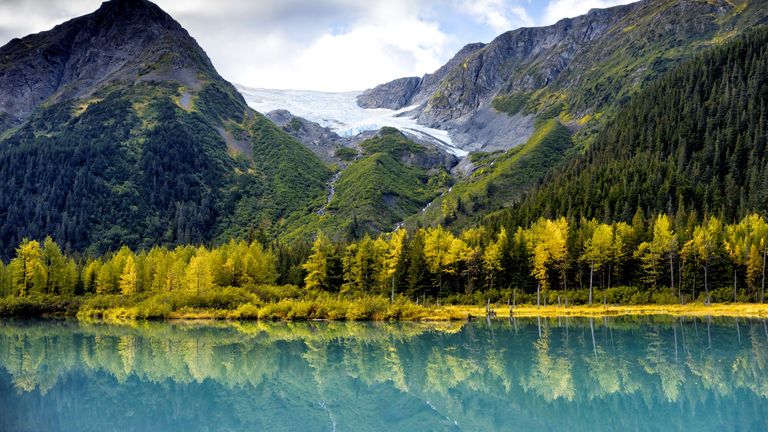 Water covers more than 70% of our planet's surface, but the exact source has puzzled scientists for decades if not longer.
A new study published in the journal Nature Astronomy suggests it has found a source which perfectly matches the isotopic signature of water on Earth.Advertisement
The research, led by scientists at the University of Glasgow, used a process called atom probe tomography to analyse different asteroid samples – some of which carry water and others which orbit too close to the Sun to do so.
Dr Luke Daly, from the University of Glasgow and the study's lead author, said: "The solar winds are streams of mostly hydrogen and helium ions which flow constantly from the Sun out into space.
"When those hydrogen ions hit an airless surface like an asteroid or a space-borne dust particle, they penetrate a few tens of nanometres below the surface, where they can affect the chemical composition of the rock.
"Over time, the 'space weathering' effect of the hydrogen ions can eject enough oxygen atoms from materials in the rock to create H2O – water – trapped within minerals on the asteroid.
"Crucially, this solar wind-derived water produced by the early solar system is isotopically light."
"That strongly suggests that fine-grained dust, buffeted by the solar wind and drawn into the forming Earth billions of years ago, could be the source of the missing reservoir of the planet's water," Dr Daly added.Thousands of people could still be killed by a completely unpredictable asteroid impact
Professor Bland at Curtin University explained that the existing theory that water was carried to Earth in the final stages of its formation by water-carrying asteroids didn't hold up to examination.
"Previous testing of the isotopic 'fingerprint' of these asteroids found they, on average, didn't match with the water found on Earth meaning there was at least one other unaccounted for source," he said.
"Our research suggests the solar wind created water on the surface of tiny dust grains and this isotopically lighter water likely provided the remainder of the Earth's water," added the professor, who works at the Space Science and Technology Centre at Curtin University.
"This new solar wind theory is based on meticulous atom-by-atom analysis of miniscule fragments of an S-type near-Earth asteroid known as Itokawa, samples of which were collected by the Japanese space probe Hayabusa and returned to Earth in 2010.
"Our world-class atom probe tomography system here at Curtin University allowed us to take an incredibly detailed look inside the first 50 nanometres or so of the surface of Itokawa dust grains, which we found contained enough water that, if scaled up, would amount to about 20 litres for every cubic metre of rock," added Professor Bland.